You know what we like? Meatballs! They're easy to make, and they're very versatile. You can use any ground protein and flavorings you like. You can serve them as an appetizer or as a main course. You can put them in soup or in a sandwich. And you can make a ton of them and freeze them, and pull them out when you need a quick meal.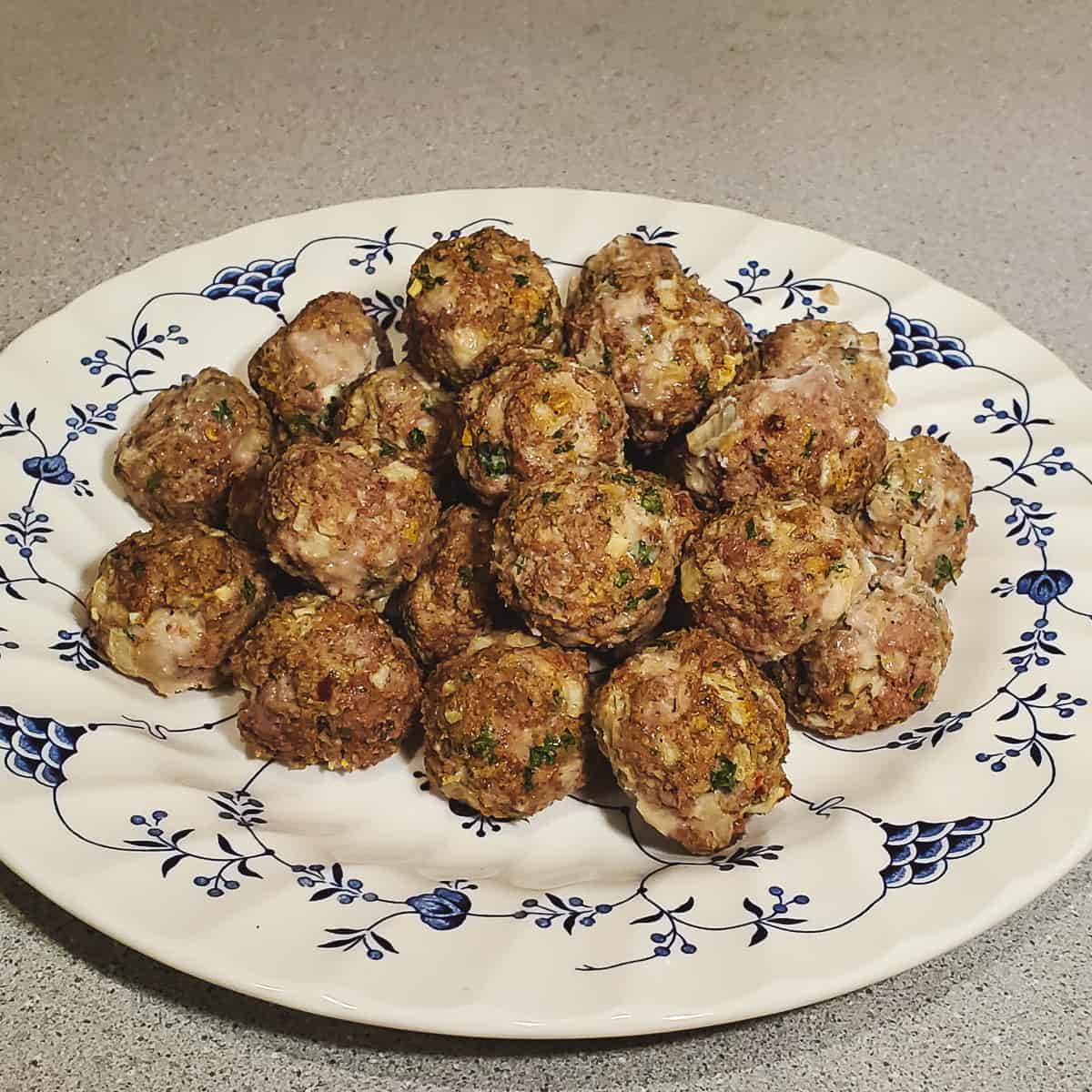 Jump to:
Meatballs - A Building Block for Meal Planning
Meatballs are what we call a "building block ingredient". You can make a pile of meatballs and serve them on their own, with a sauce or gravy, as an appetizer or main course. But you can also use them as a key ingredient in other recipes, the most familiar one probably being spaghetti and meatballs. They can be used as the protein in a casserole, in soups and chilis, in sandwiches, and on pizzas. And they freeze well, so you can always have meatballs on hand!
We're making Greek-flavored meatballs here, because we're going to use them in a Greek-style lemon soup. By changing the ingredients in the meatball mix, you can easily pair them with other recipes.
Ingredients You'll Need
ground lamb
an onion
garlic
parsley
an egg
plain bread crumbs
Greek yogurt (you can substitute sour cream)
lemon zest
salt and pepper
Where Did Meatballs Come From?
As with many other iconic foods, no one really knows where meatballs originated. There are records of meatball-like recipes from ancient Rome and Persia. But almost every culture has a tradition of ground meat mixed with herbs and spices and cooked, including meatballs, meatloaf, and kebabs. These recipes were probably created independently across human civilization. It's been speculated that they may have begun as a way to use leftover scraps of meat.
So next time you're enjoying a meatball sandwich, imagine an ancient Roman sitting down to a plate of meatballs. You're not just eating a meatball, you're eating history!
Frequently Asked Questions
I don't want to make my own Greek seasoning!
No problem! You can find pre-made Greek Seasoning in the spices area at your supermarket, or at an online store.
Can I cook the meatballs in my Instant Pot?
Yes, you can! You can also cook meatballs in an air fryer, or sauté them on the stovetop.
Make Some Greek-Style Meatballs!
Make the Meatballs
Meatballs are easy to make! Put all the ingredients in a bowl and mush them together. It's just that easy! Here you go, clockwise from the top: garlic, breadcrumbs, lemon zest, parsley, onion, Greek Seasoning Mix, and an egg. In the middle: lamb, Greek yogurt, salt, and pepper.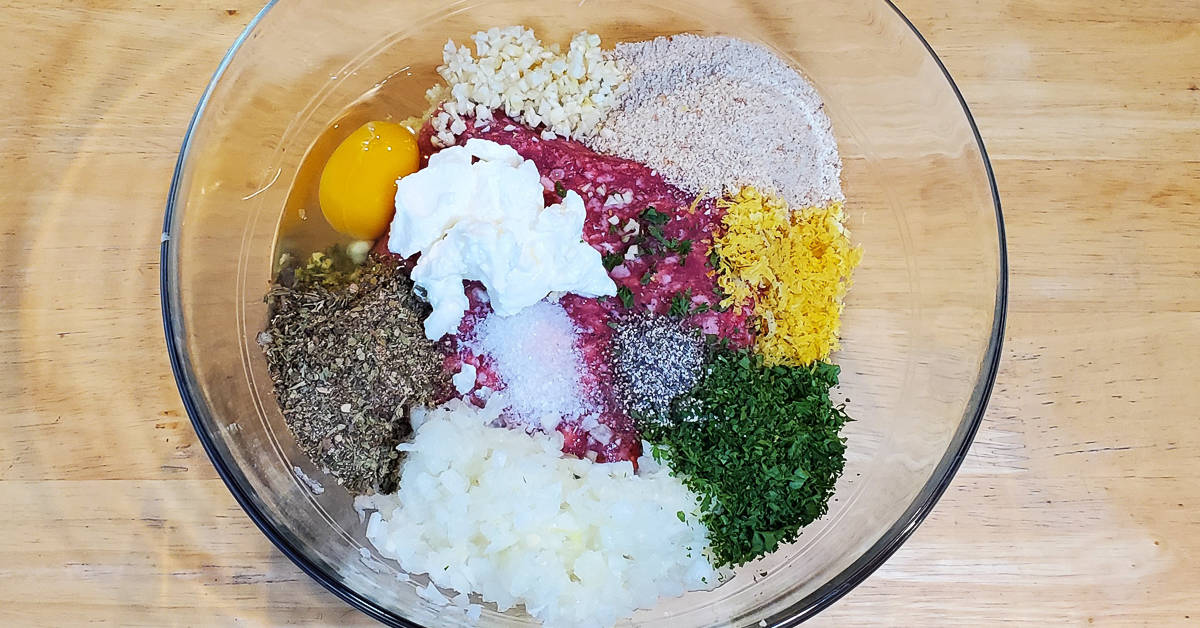 Mix well, but don't over-work the mixture.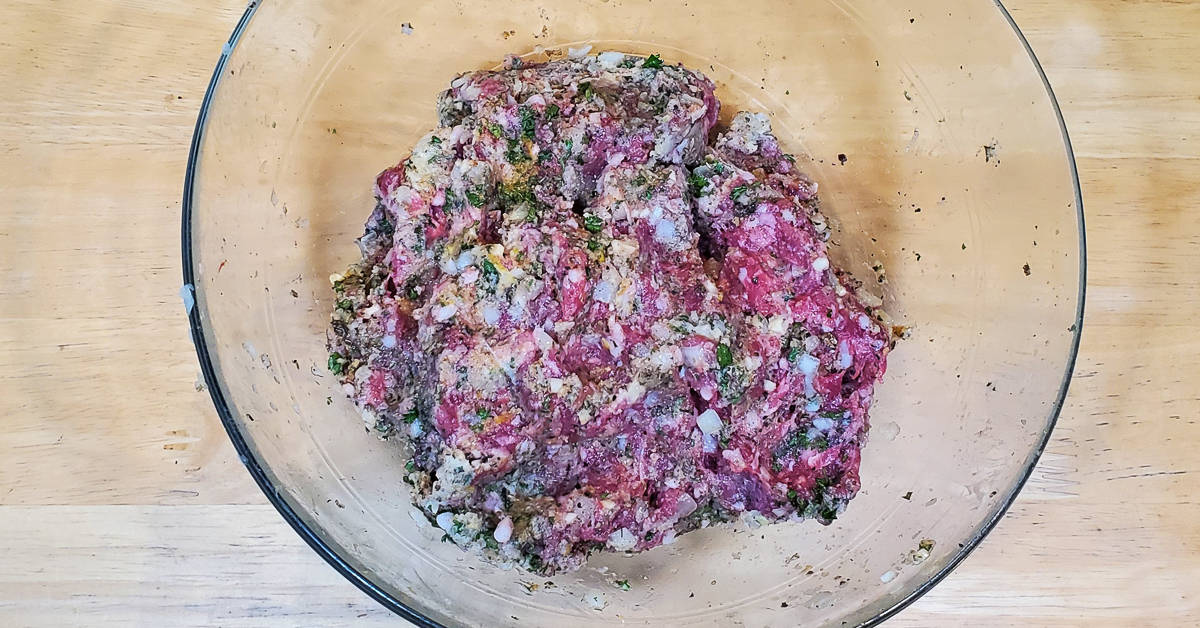 Form into balls, about 1 ½ inches in diameter. A spring-loaded scoop will help you make all the meatballs the same size so they'll cook more evenly.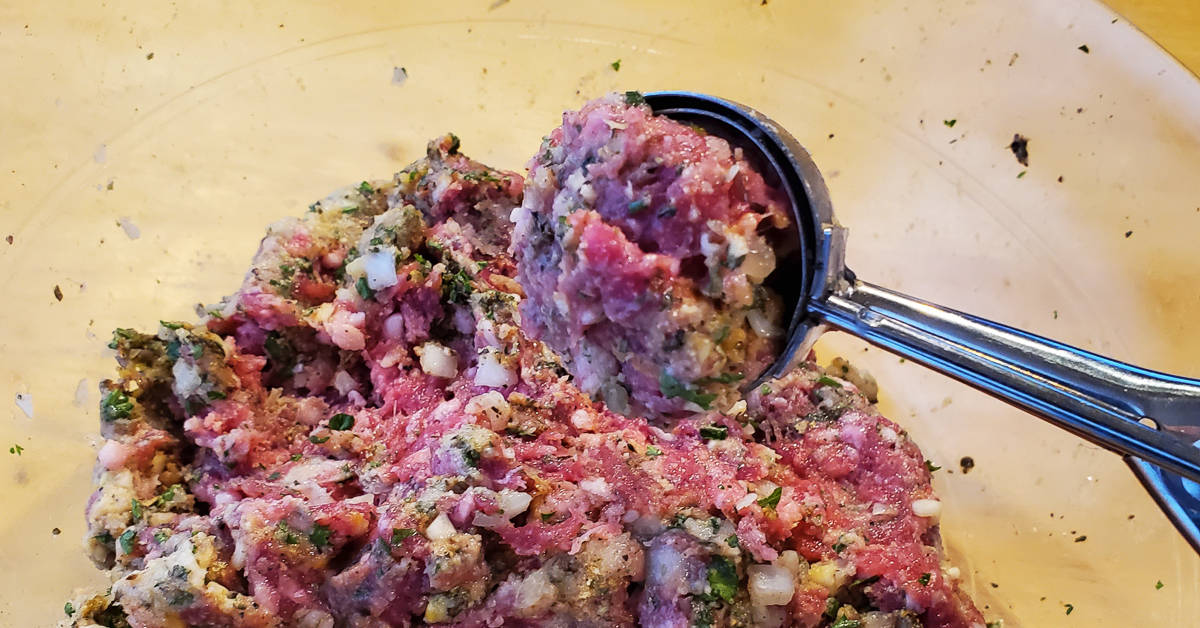 Bake the Meatballs
Preheat the oven to 400°. Line a baking pan with parchment paper and arrange the meatballs on the pan. (We're using a non-stick pan here.) If you put them on a baking rack, the meatballs will cook more evenly on all sides.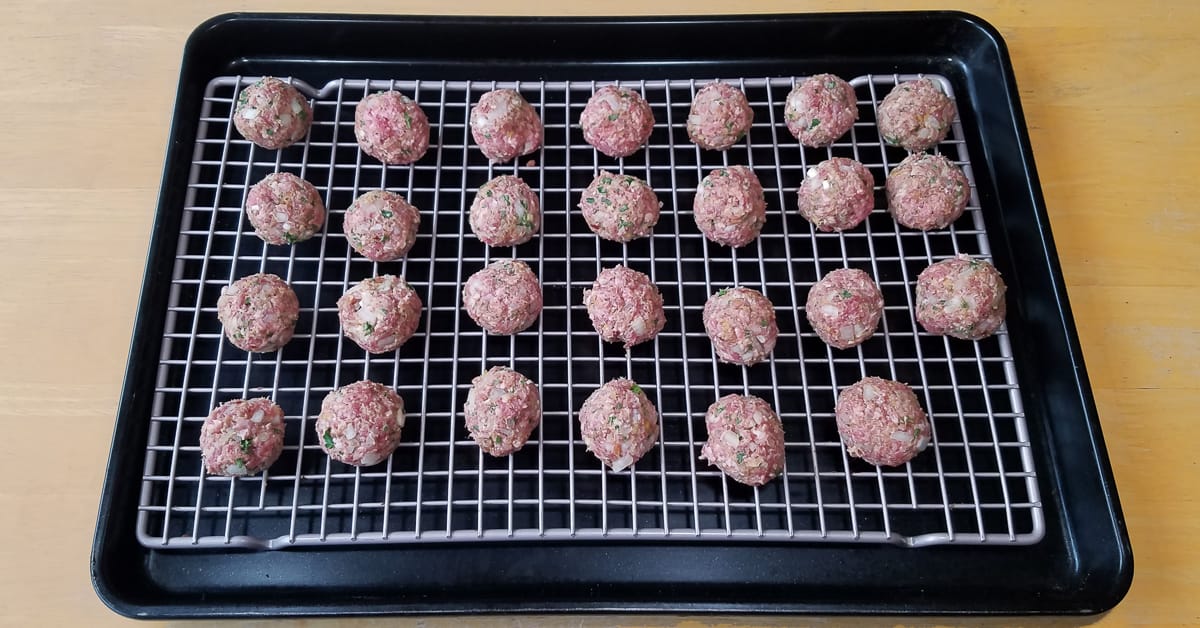 Drizzle the meatballs with oil and bake until cooked through, about 15 minutes.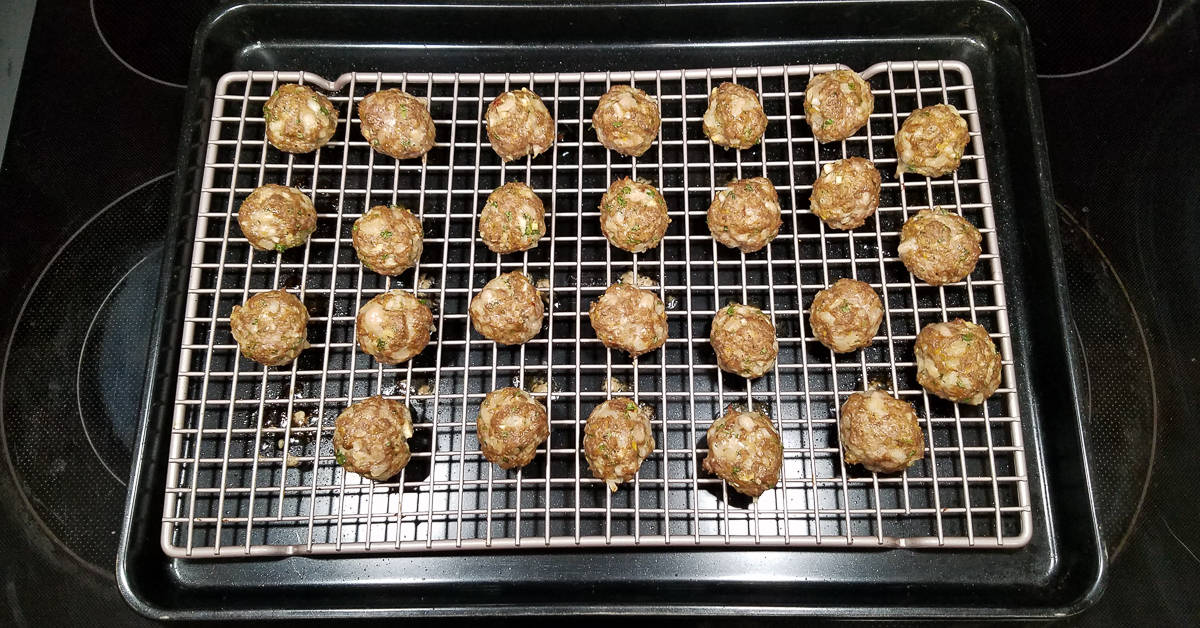 Eat, Comment, Like, and Follow!
If you liked this recipe, please leave a comment. We would also appreciate it if you would like and follow us on social media. And sign up for our newsletter to get news, new recipes, and fun food facts!
📖 Recipe Card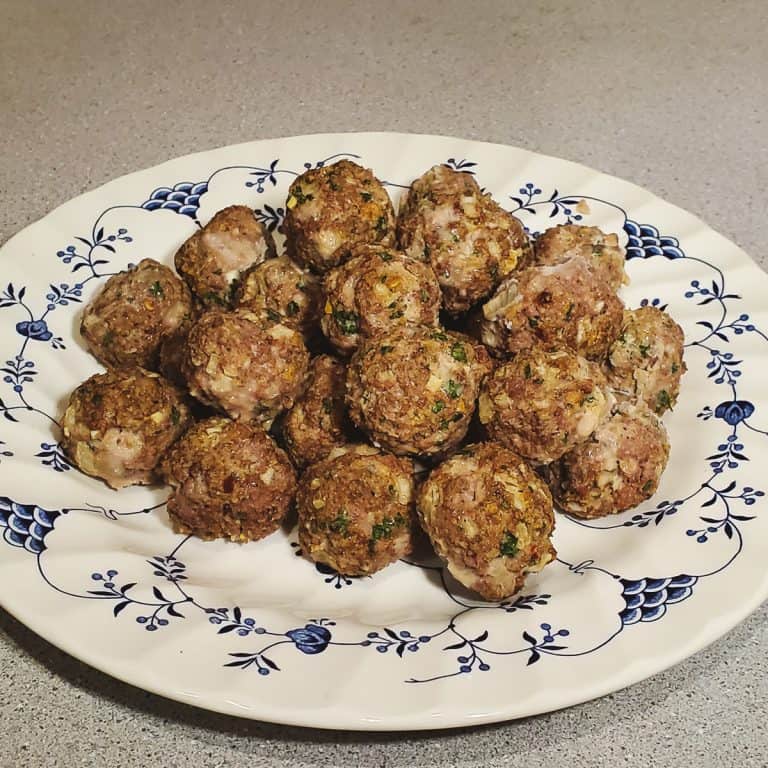 Greek-Style Lamb Meatballs
If you like Mediterranean flavors, these lamb meatballs will hit the spot! Serve them as an appetizer with tzatziki sauce, or as a main course with a Greek salad.
Ingredients
1

pound

ground lamb

1

small

onion

finely minced

3

cloves

garlic

minced

2

tablespoons

Greek Seasoning Mix

2

tablespoons

parsley

finely chopped

2

tablespoons

Greek yogurt

1

egg

beaten

¼

cup

bread crumbs

Zest of 1 lemon

Salt and black pepper

to taste
Instructions
Combine all the ingredients in a large bowl. Mix until very well combined.

1 pound ground lamb,

1 small onion,

3 cloves garlic,

2 tablespoons Greek Seasoning Mix,

2 tablespoons parsley,

2 tablespoons Greek yogurt,

1 egg,

¼ cup bread crumbs,

Zest of 1 lemon,

Salt and black pepper

Form the meat mixture into bite-sized meatballs, about 1 ½ inches in diameter.

Preheat the oven to 400°. Line a large baking sheet with parchment paper.

Drizzle the meatballs with oil and bake until cooked through, about 15 minutes.
Nutrition Estimate
Calories:
1509
kcal
Carbohydrates:
34
g
Protein:
86
g
Fat:
112
g
Saturated Fat:
48
g
Polyunsaturated Fat:
10
g
Monounsaturated Fat:
45
g
Trans Fat:
1
g
Cholesterol:
495
mg
Sodium:
538
mg
Potassium:
1362
mg
Fiber:
4
g
Sugar:
7
g
Vitamin A:
915
IU
Vitamin C:
22
mg
Calcium:
199
mg
Iron:
10
mg
THIS RECIPE IS FROM
The Spice of Your Life - https://thespiceofyourlife.com