Making this soup is just opening some cans and sautéing some shrimp. It's quick and easy to prepare, but it's fantastic!
We love southwestern flavors, so I took a basic tortilla soup recipe, amped it up with some stronger chile powders, and added spicy shrimp. It's great as either an appetizer or a meal!
Jump to:
If You Like it Hot, You'll Love This Recipe
I used ancho chlile powder instead of standard blended chile powder. Ancho chiles are dried poblano peppers. They have a mild, smokey flavor that adds some depth to the soup. And I used chipotle chile powder for the shrimp. Chipotle chile powder is made from smoked and dried jalapeno peppers. It's a bit hotter than ancho, with an earthy flavor. Using a variety of chiles adds depth and complexity to a dish! But if you don't have ancho or chipotle on hand, this recipe is good with regular chile powder too.
Ingredients You'll Need
Canned beans (I used black beans and pinto beans, but you can use whatever you have in the pantry.)
Canned corn (You can also use frozen corn, or even fresh corn right from the cob.)
Canned diced tomatoes (If you're ambitious, you can chop fresh tomatoes.)
Green enchilada sauce (There's really no good substitute for this!)
Chicken broth (You can use vegetable broth if you're of that persuasion.)
Mexican spice or taco seasoning
Spices: cumin, ancho chile powder, chipotle chile powder, and garlic powder (You can substitute regular chile powder for the ancho and chipotle.)
Garlic cloves
Shrimp (I always use frozen, peeled, and deveined shrimp. Life is too short to spend time peeling shrimp.)
Variations
This is a very adaptable recipe. Instead of cooking shrimp separately, you could add other proteins like chicken, pork, or sausage to the soup pot. (This would probably be awesome with chorizo! Making a note to try it next time.) Just be sure to adjust the cooking time to make sure the protein is completely cooked. And if you're of the vegetarian persuasion, you can leave the protein out and use vegetable stock instead of chicken.
And of course feel free to adjust the spices to your level of heat tolerance.
About Those Can Sizes
There are some "standard" sizes for different types of canned goods, like 15.5 ounces for beans and 14.5 ounces for tomatoes. But some manufacturers have been reducing the weights of some products recently, so that they can sell them at the same price and still make a profit. So if you pick up a can of beans and it's only 15 ounces, don't panic! Half an ounce won't make a noticeable difference in the volume or flavor of a recipe. So unless a specific size is shown, just read those sizes as "a can".
About Those Shrimp Sizes
This drives me crazy. Shrimp are sized by "count per pound", and there are count ranges for different sizes of shrimp. So sometimes it's hard to figure out how big a "large" shrimp is compared to a "medium". For a soup you'll want a smaller, bite-sized shrimp that will fit easily on a spoon. How big is that? Look at the shrimp at the store, find the right size, and buy a pound of those.
(You could bring a spoon with you and hold it up to the bag of shrimp, but people might think you're weird.)
Make Some Spicy Shrimp Taco Soup Tonight!
Prep the Ingredients
Thaw the shrimp, and remove the tails if you got tail-on. Open the cans. Measure the seasonings. You're done! Here are the soup ingredients. Top row: pinto beans, enchilada sauce, black beans. Middle row: corn, tomatoes. Bottom row: Mexican splice, lime juice, and spices (ancho chile, cumin, and garlic powder).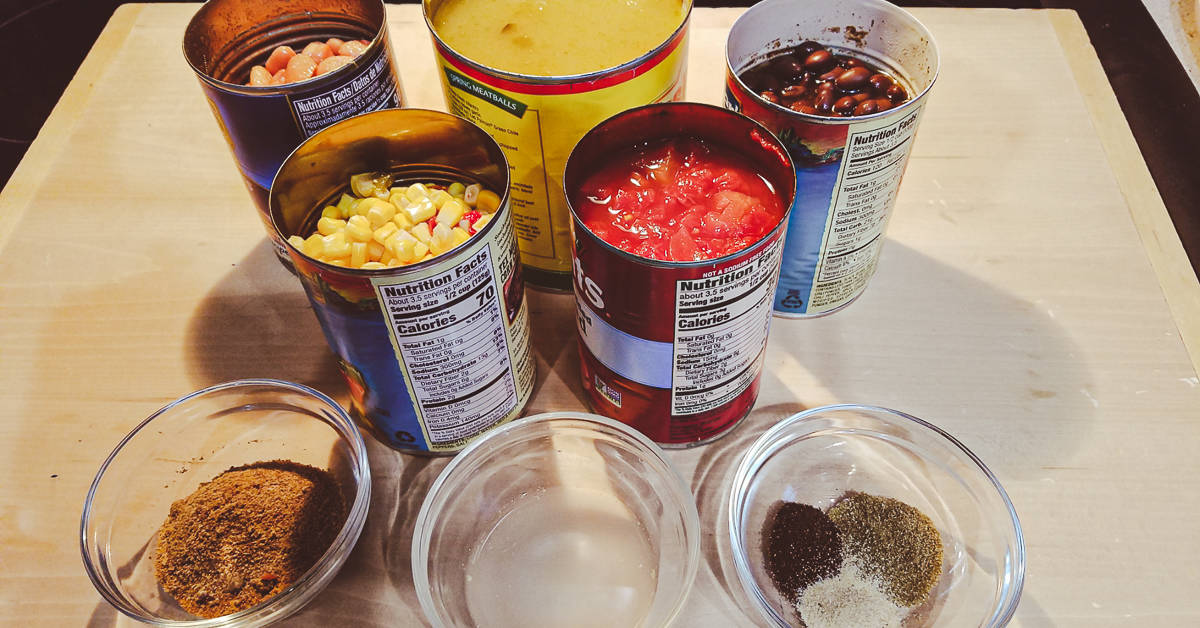 And here are the shrimp ingredients. Shrimp, cumin and chipotle powder, and garlic.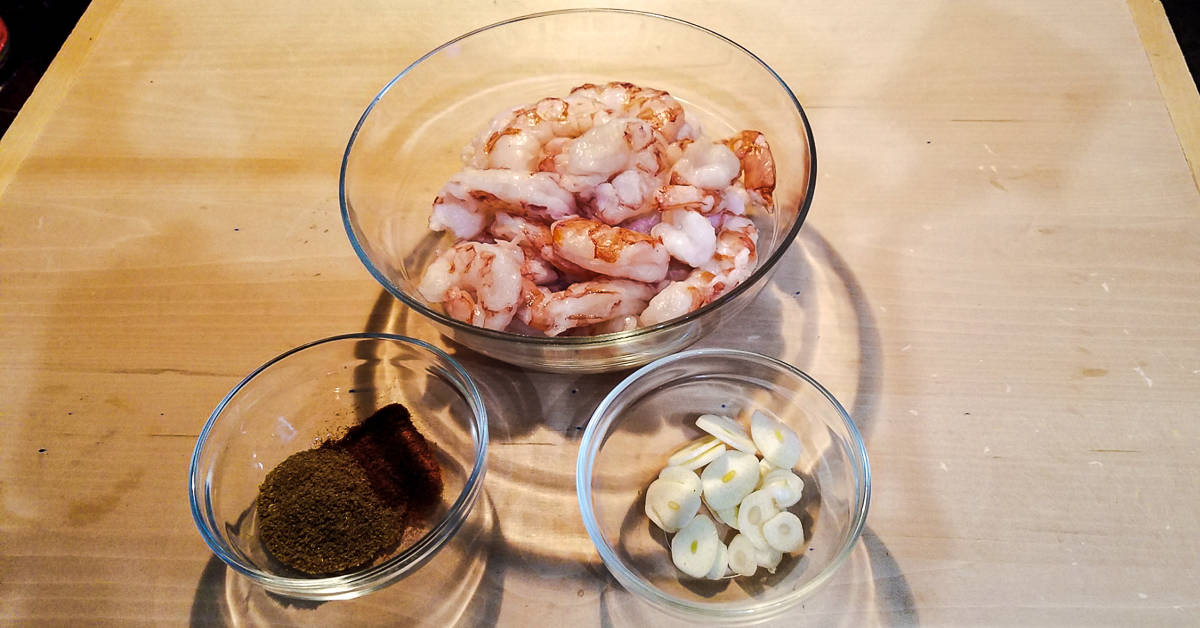 Add the Soup Ingredients to a Large Pot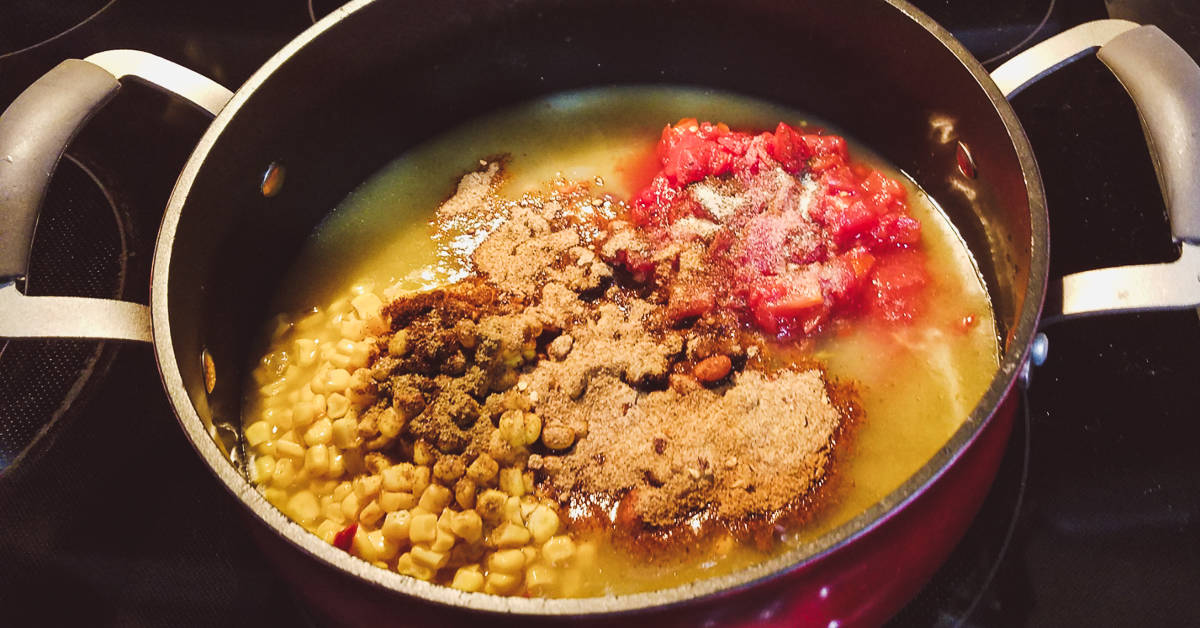 Whoops! I Forgot the Chicken Stock!
Here it is. Add it to the pot!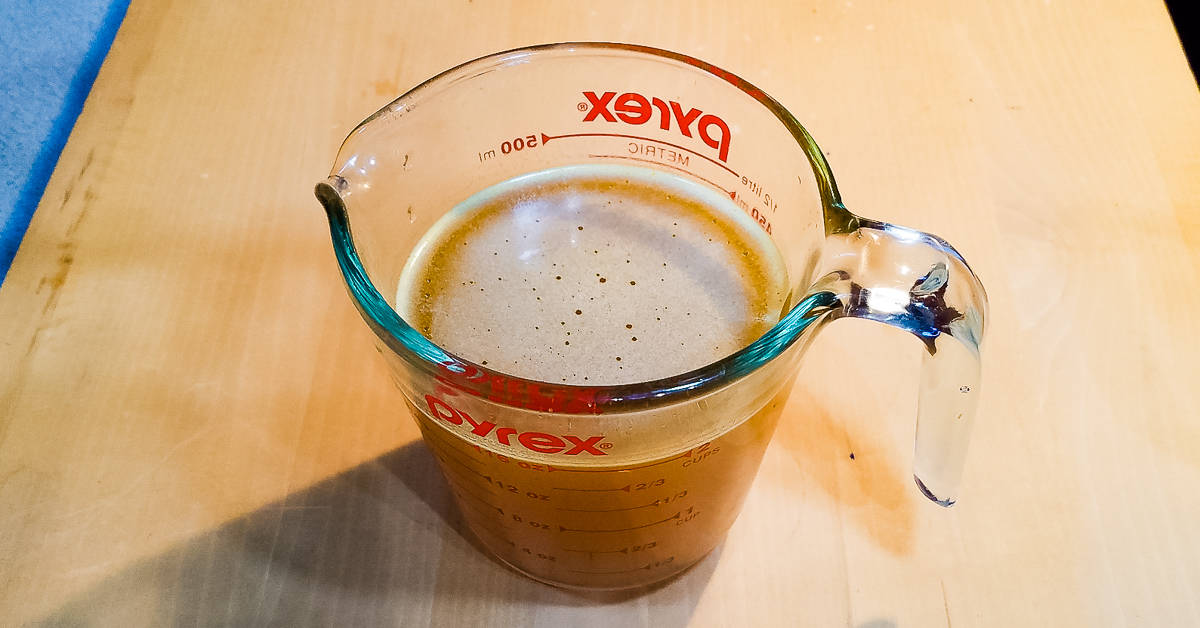 Stir it Up!
Stir everything together. (This is really the hardest part of the recipe.)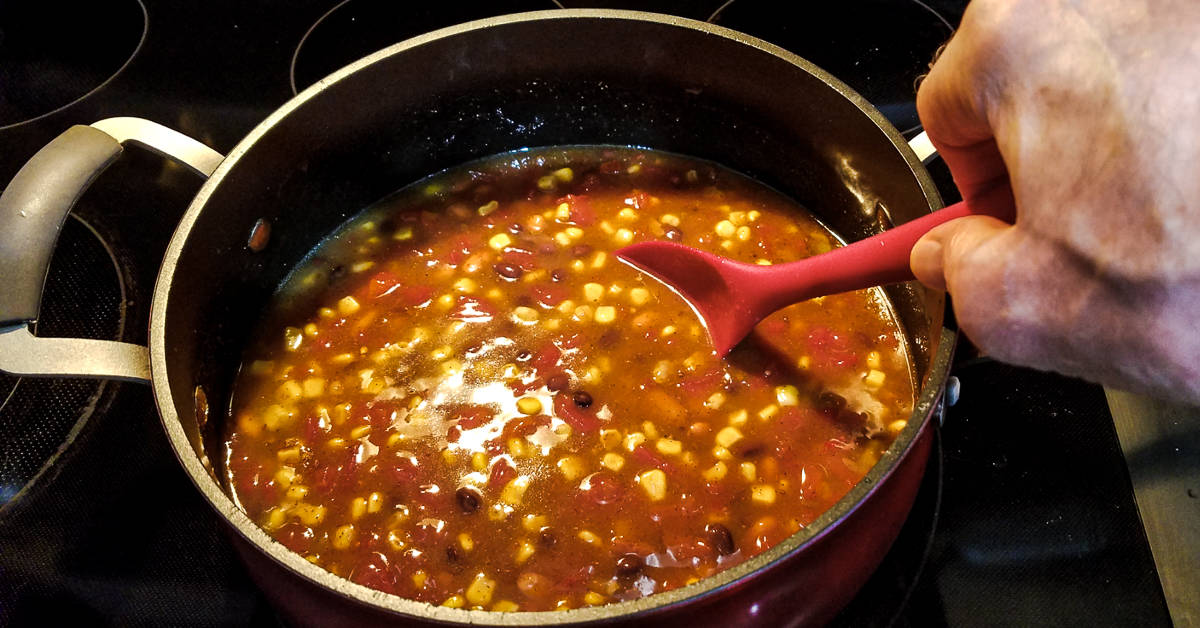 Let it Cook for a While.
Bring the soup to a boil over medium-high heat. Set the temperature to low and let it simmer for 20-25 minutes.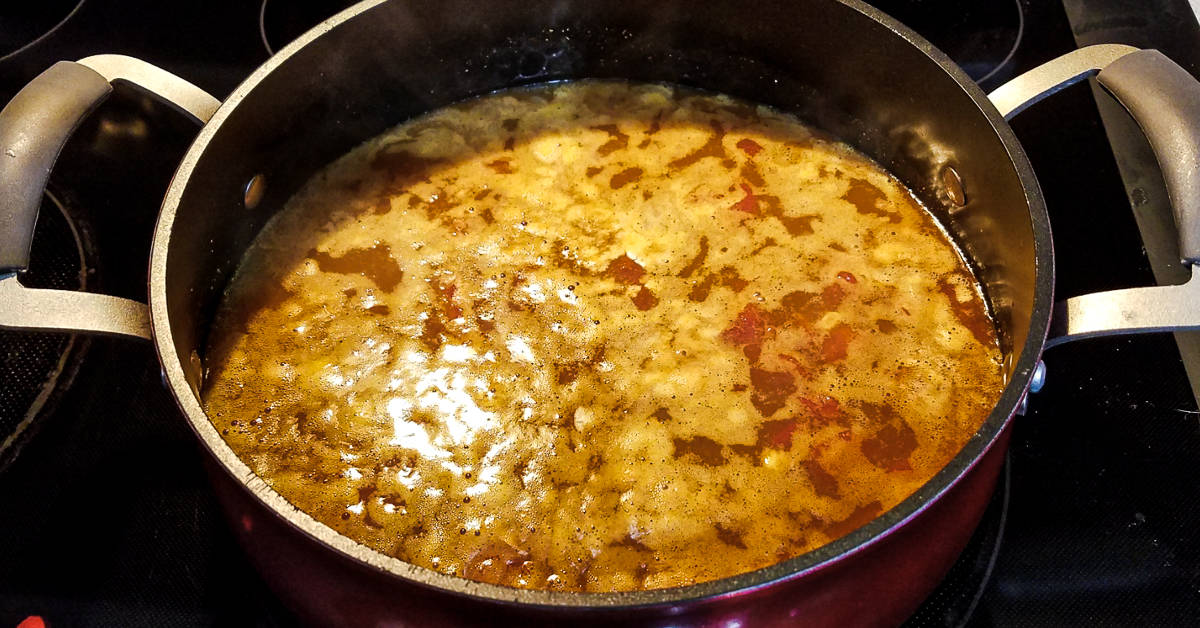 Heat Up Some Oil and Butter
Because if olive oil is good, and butter is good, both of them at once is twice as good!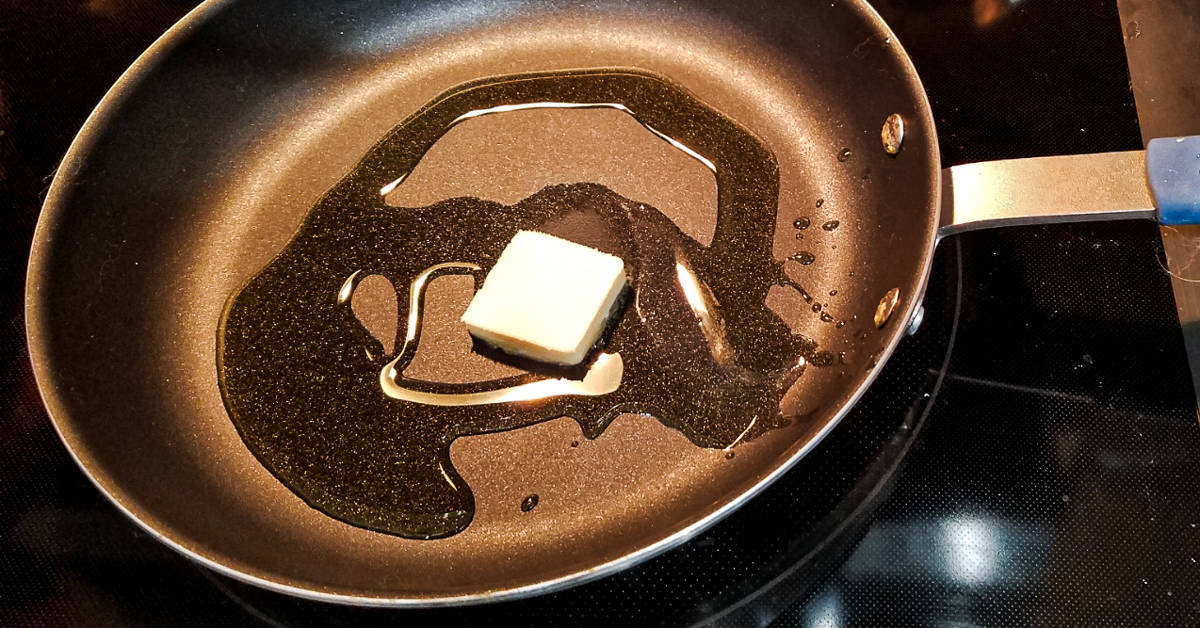 Sauté the Garlic
Add the garlic to that lovely oil and butter and stir it around for a while. Drop the heat to medium and let it cook until it's translucent to take the sharp edge off the flavor.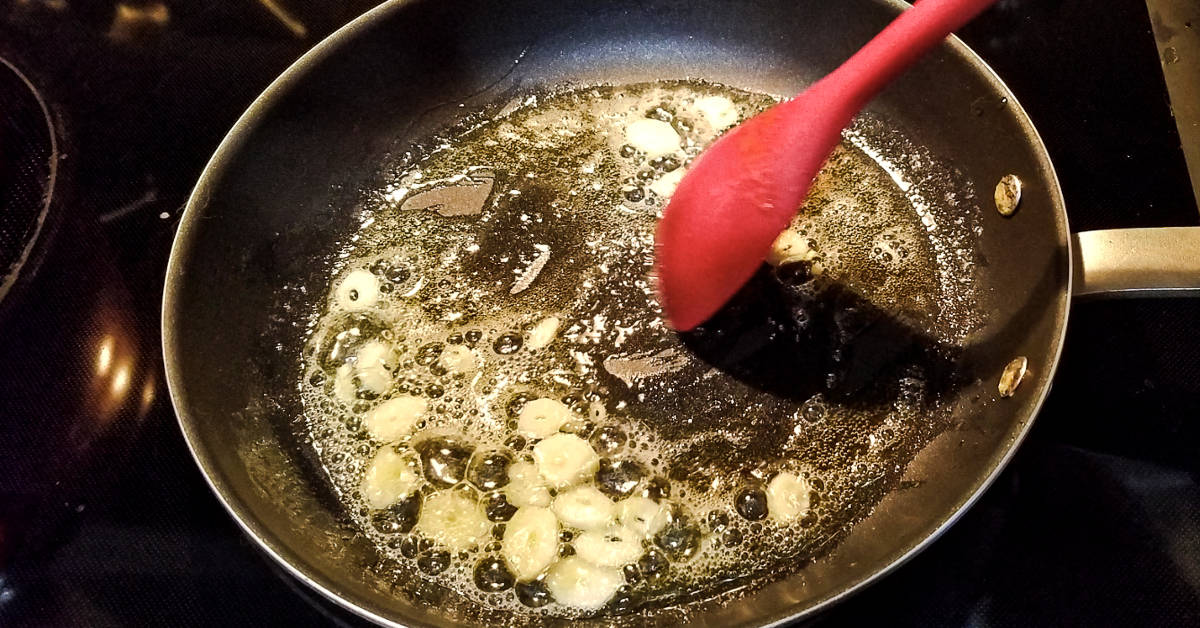 Cook the Shrimp
Add the shrimp to the pan and sauté for 4 to 5 minutes until it turns pink.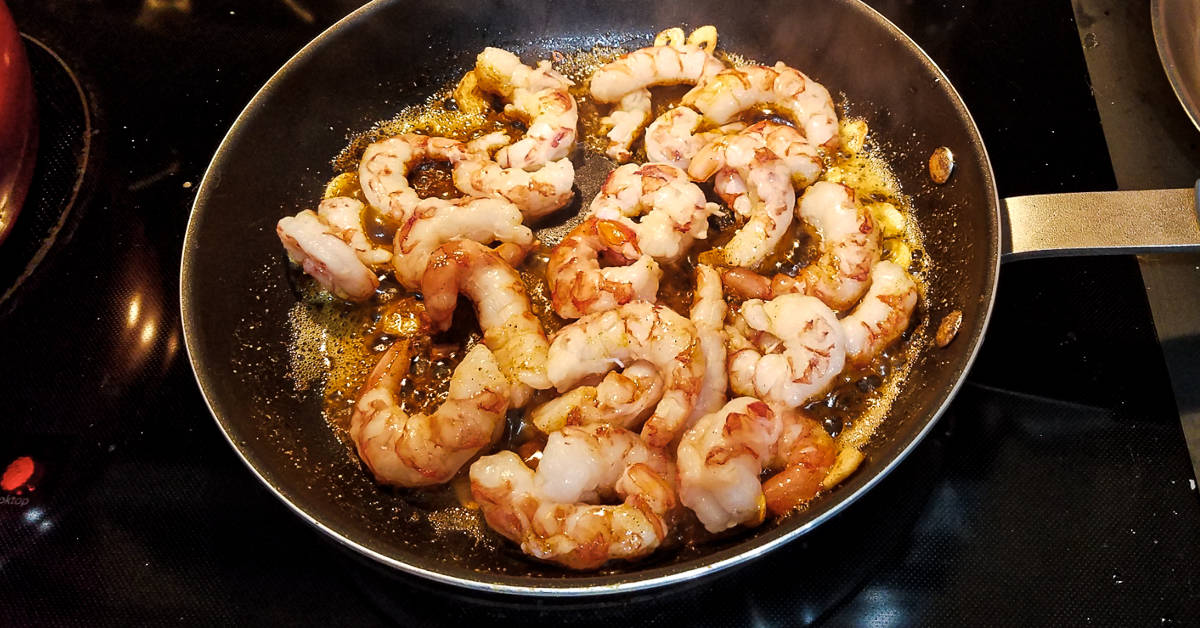 Of courses, it can be hard to tell when it's pink when it's coated with those delicious spices!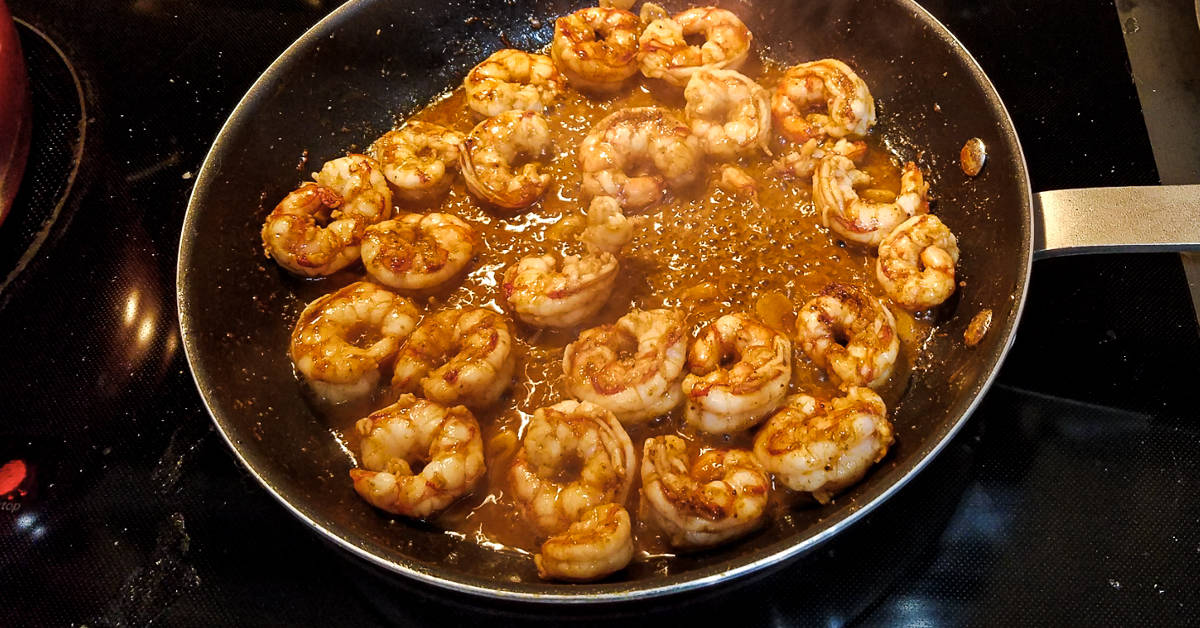 Serve it Up!
Here's the soup plated as an appetizer, with sour cream and tortilla strips. Yum!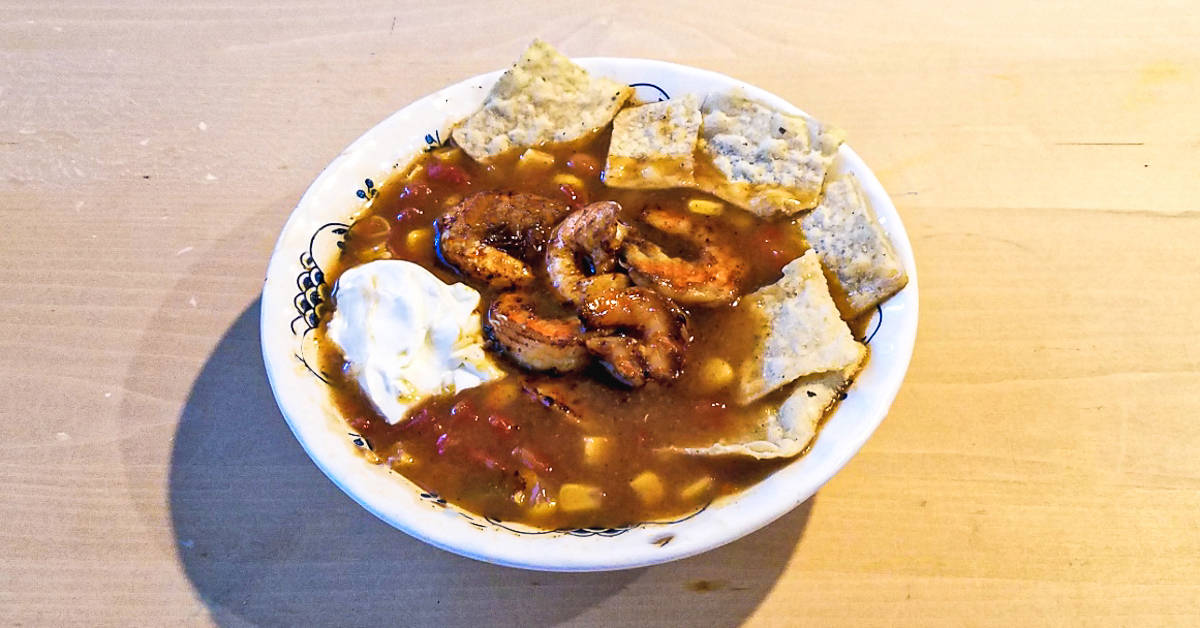 We like this soup as a meal, so we used the big bowls! You can't see the shrimp very well because they swam to the bottom. I put cheese on mine, and Debbie went for chopped avocado. (I added more cheese after I took the picture so you could still see the soup!)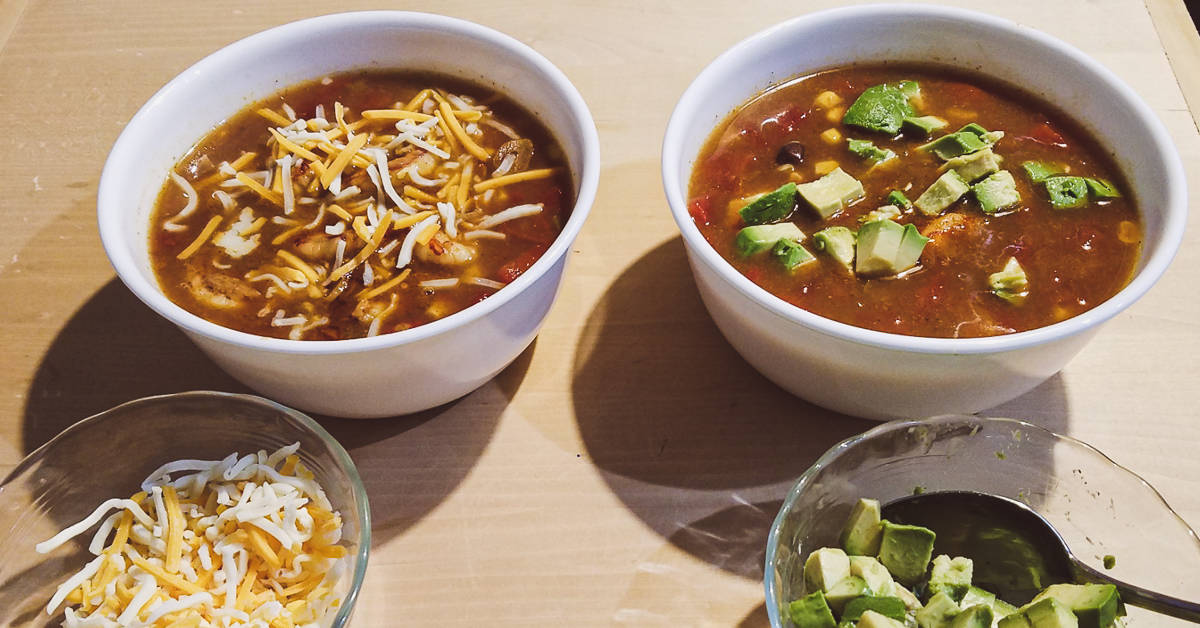 Eat, Comment, Like, and Follow!
If you liked this recipe, please leave a comment. We would also appreciate it if you would like and follow us on social media. And sign up for our newsletter to get news, new recipes, and fun food facts!
📖 Recipe Card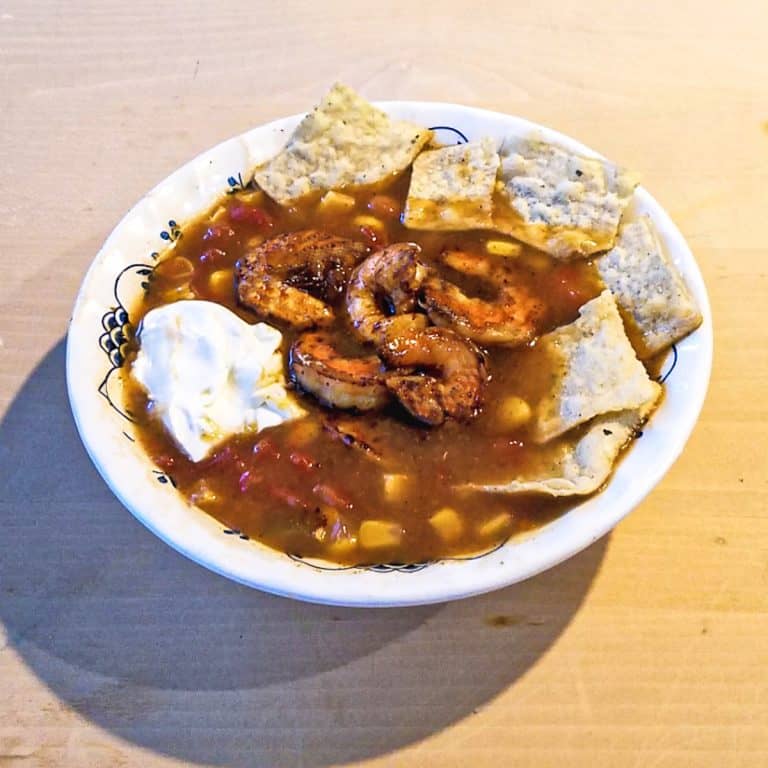 Shrimp Taco Soup
This is a spicy southwestern soup that comes together quicky. It's mostly opening cans!
Ingredients
For the Soup
1

(15-ounce) can

black beans

drained and rinsed

1

(15-ounce) can

pinto beans

drained and rinsed

1

(15-ounce) can

corn

drained

1

(14.5-ounce) can

diced tomatoes

1

(28-ounce) can

green enchilada sauce

2

cups

chicken broth

2

tablespoons

Mexican spice or taco seasoning

½

teaspoon

cumin

½

teaspoon

ancho chile powder

½

teaspoon

garlic powder

2

tablespoons

lime juice
For the Shrimp
1

tablespoon

olive oil

1

tablespoon

butter

2

cloves

garlic

sliced thin

1

teaspoon

cumin

1

teaspoon

chipotle chile powder

1

pound

shrimp

medium or large
Garnishes
Lime wedges, sour cream, Mexican cheese blend, chopped avocado, chopped cilantro, tortilla chips, etc.
Instructions
For the Soup
Dump the soup ingredients into a large pot, stir to mix, and bring to a boil over medium-high heat.

1 (15-ounce) can black beans,

1 (15-ounce) can pinto beans,

1 (15-ounce) can corn,

1 (14.5-ounce) can diced tomatoes,

1 (28-ounce) can green enchilada sauce,

2 cups chicken broth,

2 tablespoons Mexican spice or taco seasoning,

½ teaspoon cumin,

½ teaspoon ancho chile powder,

½ teaspoon garlic powder,

2 tablespoons lime juice

Lower the heat and let it simmer for 20 to 25 minutes.

Meanwhile, heat the oil and butter in a pan over medium-high heat. Add the garlic and sauté for 1 minute. Drop the heat to medium and continue stirring until they become translucent.

1 tablespoon olive oil,

1 tablespoon butter,

2 cloves garlic

Add the spices and stir for about a minute until they are fragrant and incorporated into the oil.

1 teaspoon cumin,

1 teaspoon chipotle chile powder

Add the shrimp to the pan and sauté for 4 to 5 minutes, until they turn pink.

Ladle into bowls, add a scoop or two of shrimp on top, and serve with your favorite garnishes.

Enjoy, comment, rate, and like on our social media channels!
Nutrition Estimate
Calories:
115
kcal
Carbohydrates:
2
g
Protein:
16
g
Fat:
5
g
Saturated Fat:
2
g
Polyunsaturated Fat:
1
g
Monounsaturated Fat:
2
g
Trans Fat:
1
g
Cholesterol:
127
mg
Sodium:
472
mg
Potassium:
296
mg
Fiber:
1
g
Sugar:
1
g
Vitamin A:
297
IU
Vitamin C:
8
mg
Calcium:
63
mg
Iron:
1
mg
THIS RECIPE IS FROM
The Spice of Your Life - https://thespiceofyourlife.com