I'm always happy when I walk into the supermarket and see a big display of blood oranges, because it means I can make this desert! Blood oranges have a deeper flavor than other varieties, sometimes described as raspberry-like. While this recipe can be made with any type of orange, the blood orange gives it a unique, subtle taste.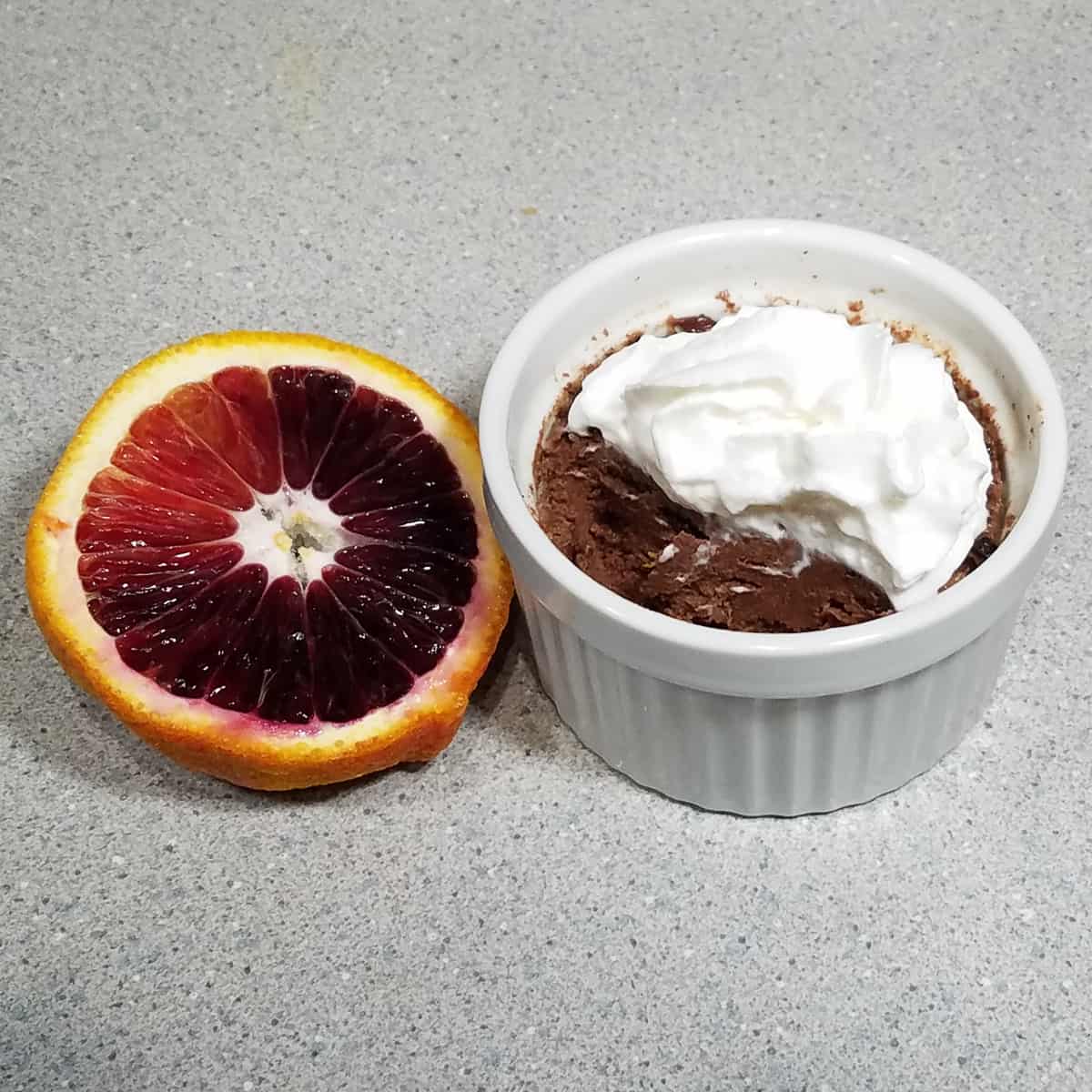 [feast_advanced_jump_to]
Meet the Ninja Super-Pot!
We made this in our new Ninja Foodi XL 14-in-1 8-quart Smart Pressure Cooker/Steam Fryer. This is a state of the art multi-pot that's even easier to use than our old Foodi pot, with some great new features.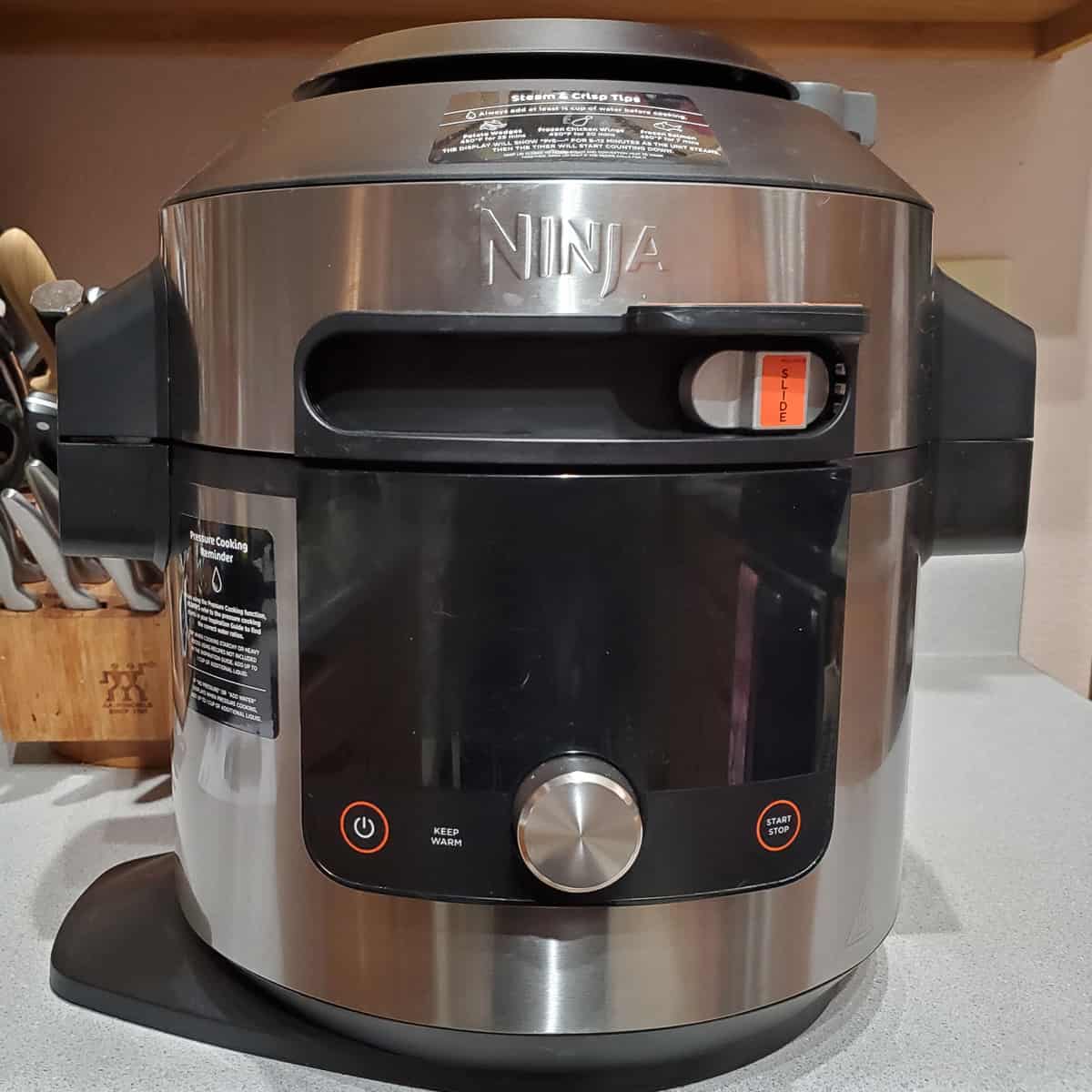 This is a monster appliance. It's 15.39" L X 14.21" W X 14.25" H, so you'll need a lot of counter space for it! But it does everything... pressure cooking, steam crisping, and air frying.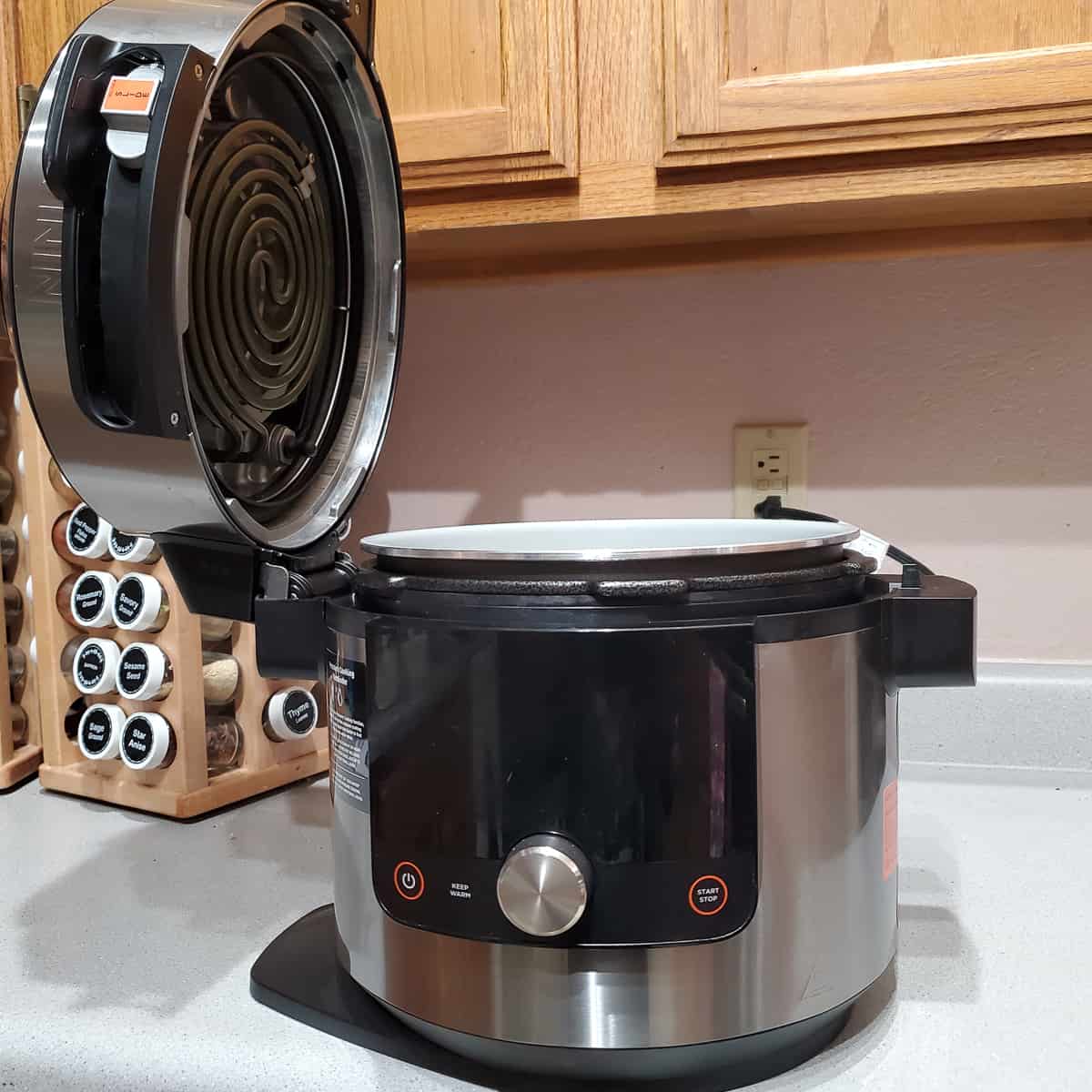 It's got a swing-up lid, which is really convenient. The downside is that it can't be used under a cabinet. But you really don't want to be doing steam release under your wooden cabinets anyway! This photo shows the heating element for crisping. It's an exposed element, so be careful! The lid also houses the fan for air frying. There's a orange label on the tab on the front that says "LIFT HERE". Do NOT lift from the side or you'll steam your hand! Read the instructions carefully and be safe!
Ingredients You'll Need
egg yolks
sugar
heavy cream
milk or half and half
dark chocolate
a blood orange (or any other kind of orange)
vanilla extract
sea salt
A Note on Chocolate
We tried making this with dark chocolate chips and it did not come out that well, the custard was much too thick. We recommend using a high-quality dark chocolate bar, with at least 70% cocoa. We've used up to 90% cocoa with good results! Just remember, the darker it is, the more bitter it is.
Equipment You'll Need
A pressure cooker like the Ninja Foodi or Instant Pot

A two-level pressure cooker trivet
Six 3-inch, 4-ounce ramekins
Frequently Asked Questions
I don't have a Ninja multi-pot. Can I make this with my Instant Pot?
Absolutely! We're highlighting the Ninja Foodi Smart Pot this recipe because it's got some great features that other multi-pots don't have. (At least not yet!) You'll just need to adapt the instructions to work with your brand of pot. For example, the Foodi pot has a delayed release feature for natural release, so if you're using an Instant Pot or other multi-pot you'll need to set a timer to know when to release.
I don't like dark chocolate, can I use milk chocolate instead?
Sure, you can use any type of chocolate. I'm not sure about white chocolate though, because it's technically not chocolate at all so the chemistry might not work the same. If you try it and it works, please come back and post a comment about it!
Make Some Delicious Dark Chocolate and Blood Orange Custard
The Ingredients
Top row: cream, milk, eggs, and and orange juice. Middle row: sugar, salt, vanilla extract, and orange zest. Bottom row: chocolate. Look at the color in that zest and juice! Can you believe that came from an orange?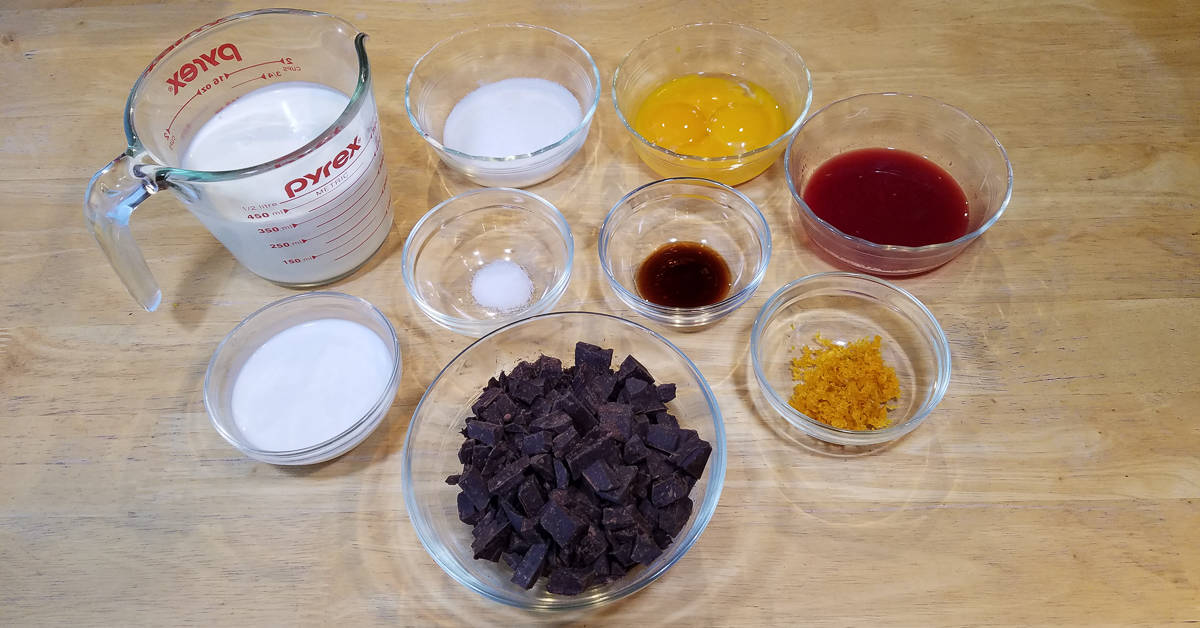 Put the sugar and eggs into a large bowl.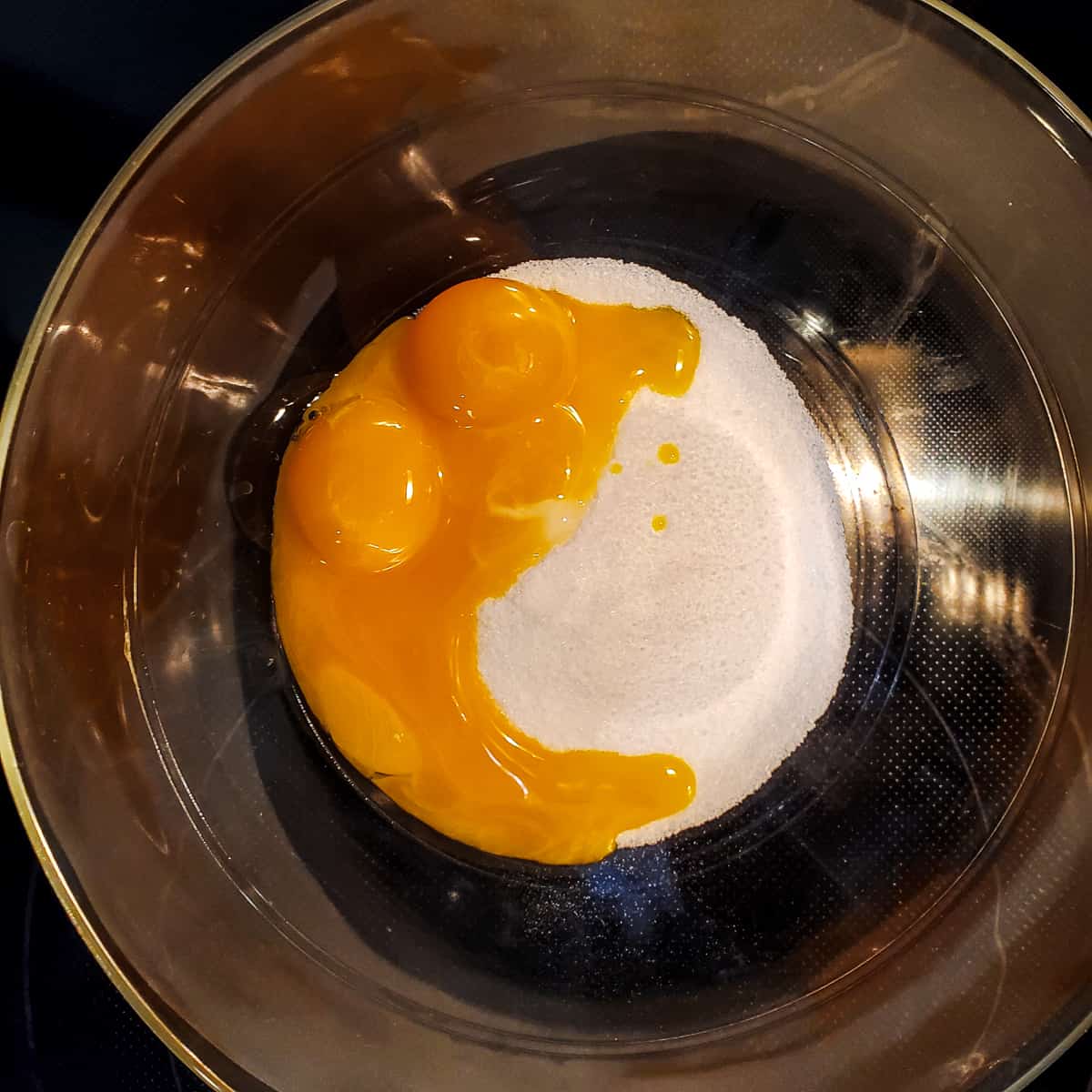 Whisk them to combine, and set the bowl aside.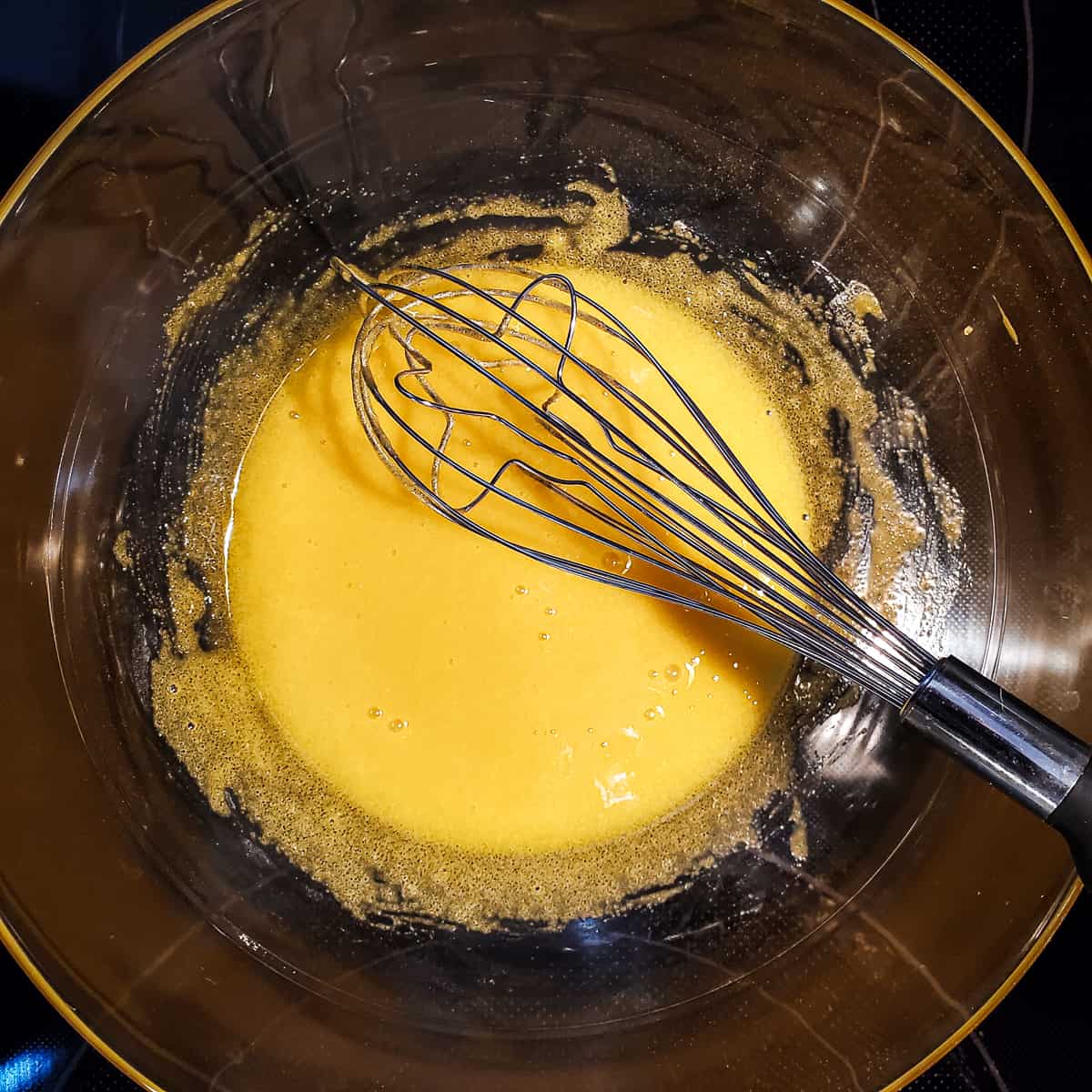 Melt the chocolate by putting it into a microwave-safe glass bowl. Heat for 30 seconds at a time, stirring afterward, until it is almost completely melted. In my microwave it takes two 30-second melts. If there are a few lumps left, don't worry, they'll melt as the chocolate stands.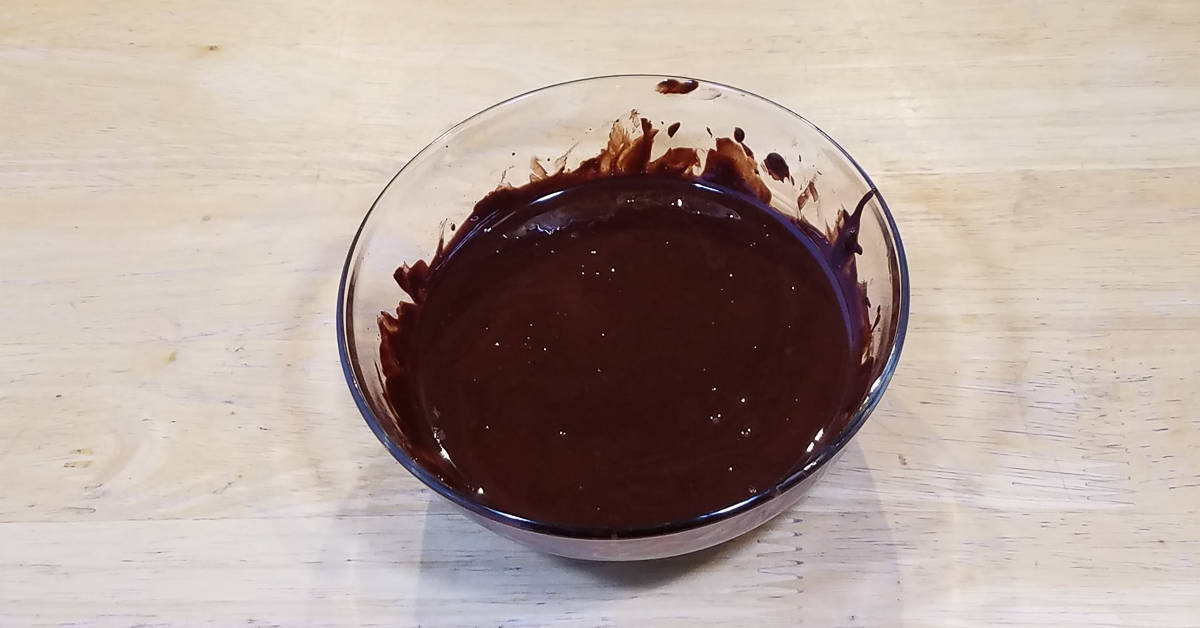 Pour the cream and milk into a small saucepan and bring them to a slow simmer over medium heat. Remove the pan from the heat.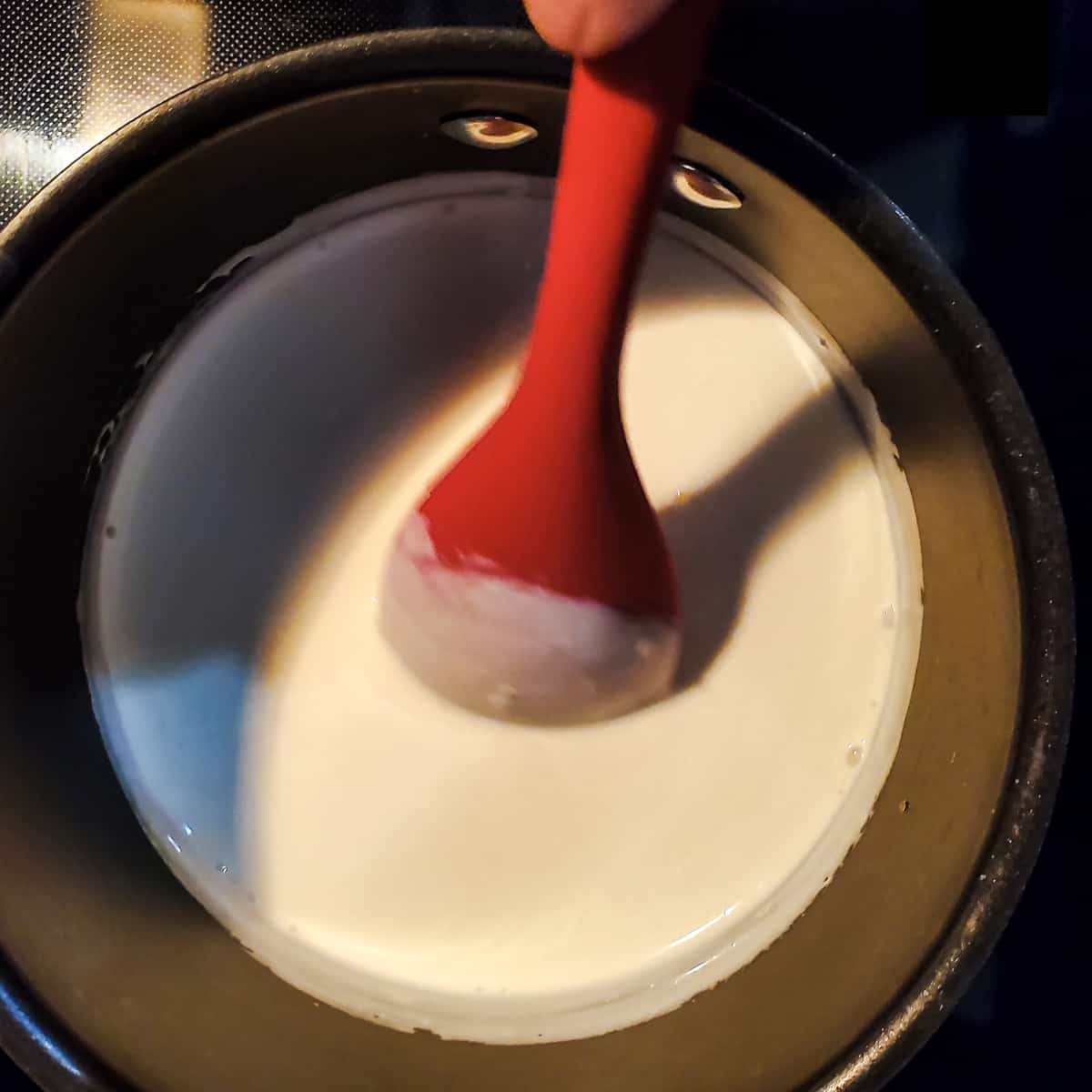 Slowly whisk the hot cream into the egg/sugar mixture.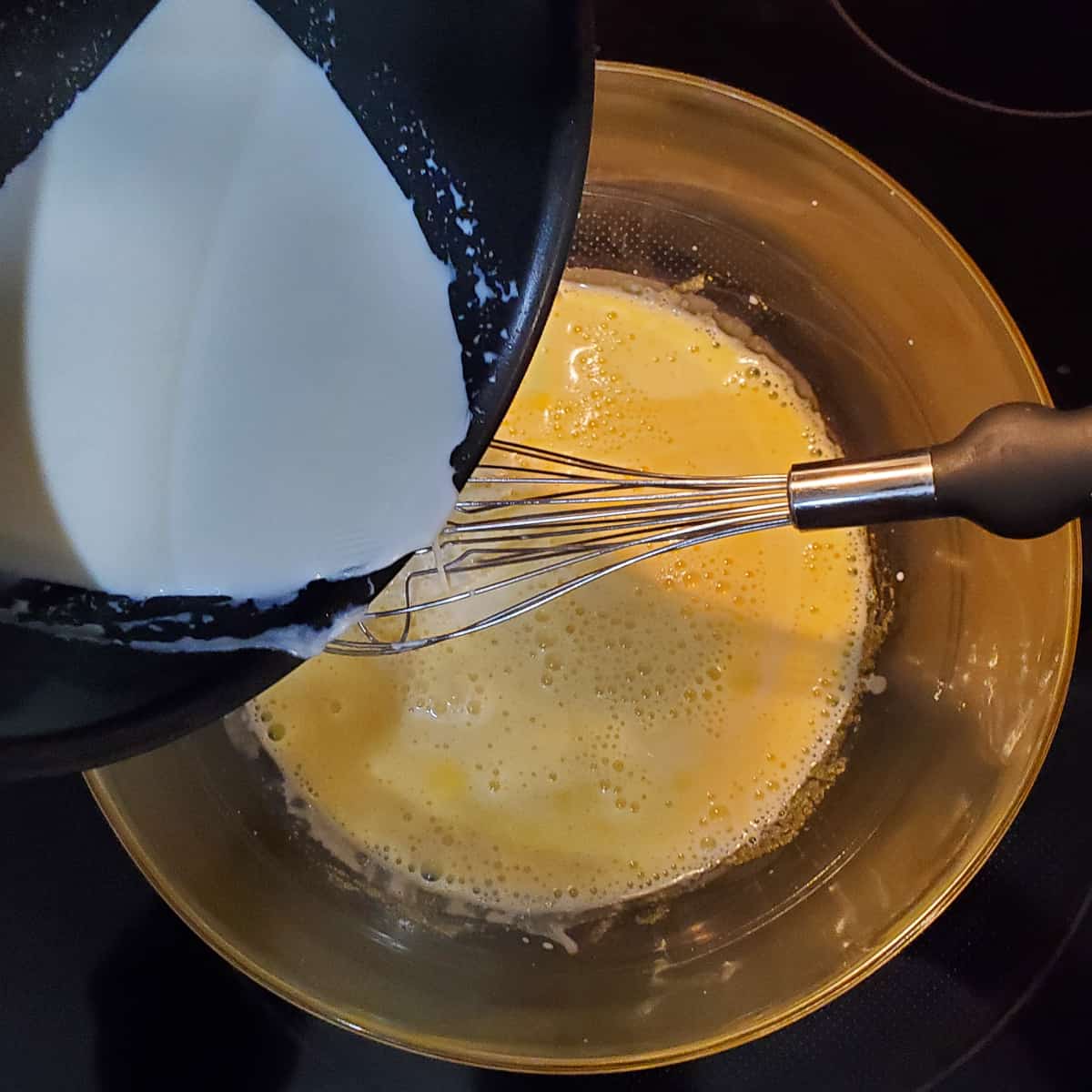 Qickly whisk in the melted chocolate until fully combined.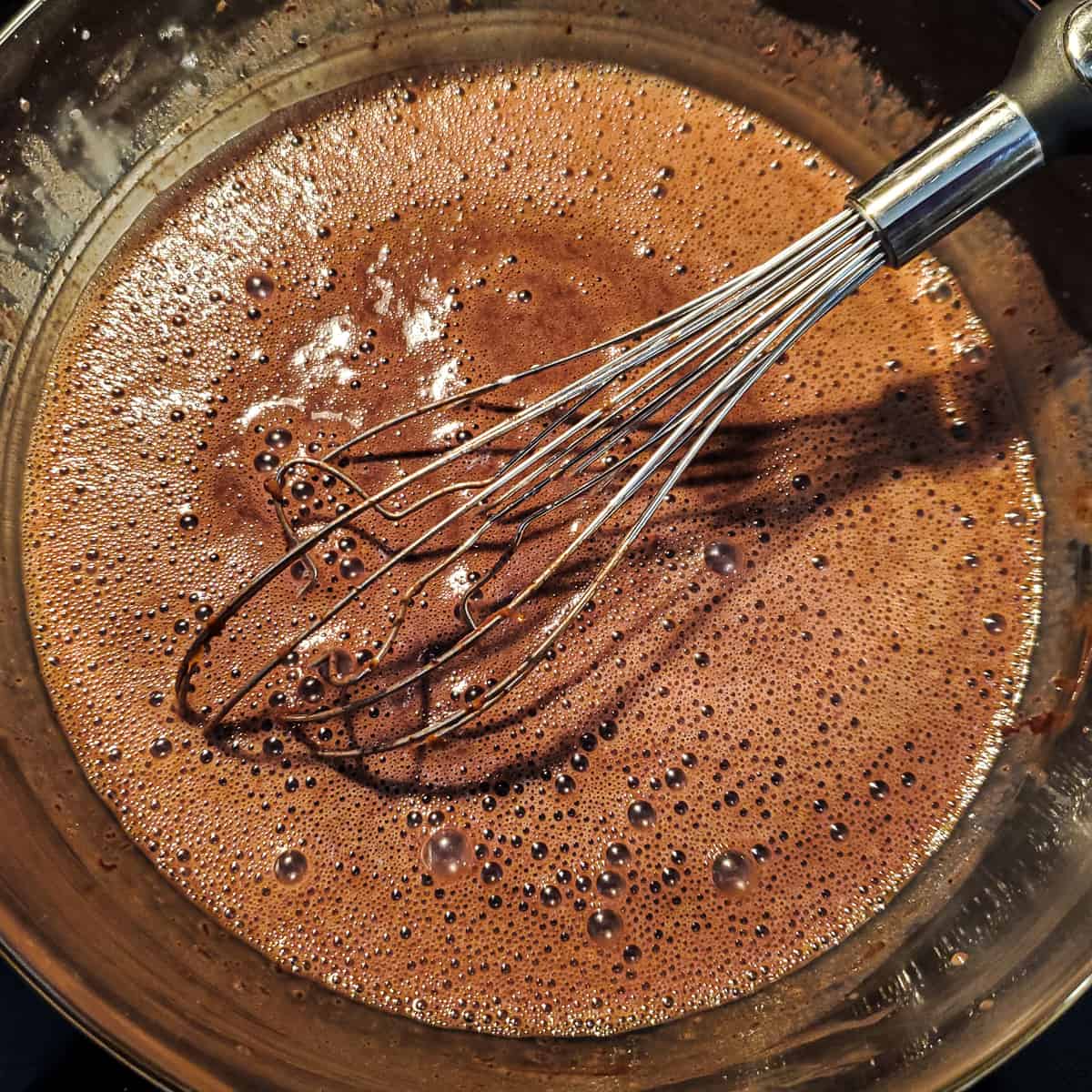 Add the orange zest and juice, vanilla, and sea salt and whisk to combine. Pour the mixture into six 3-inch, 4-ounce ramekins.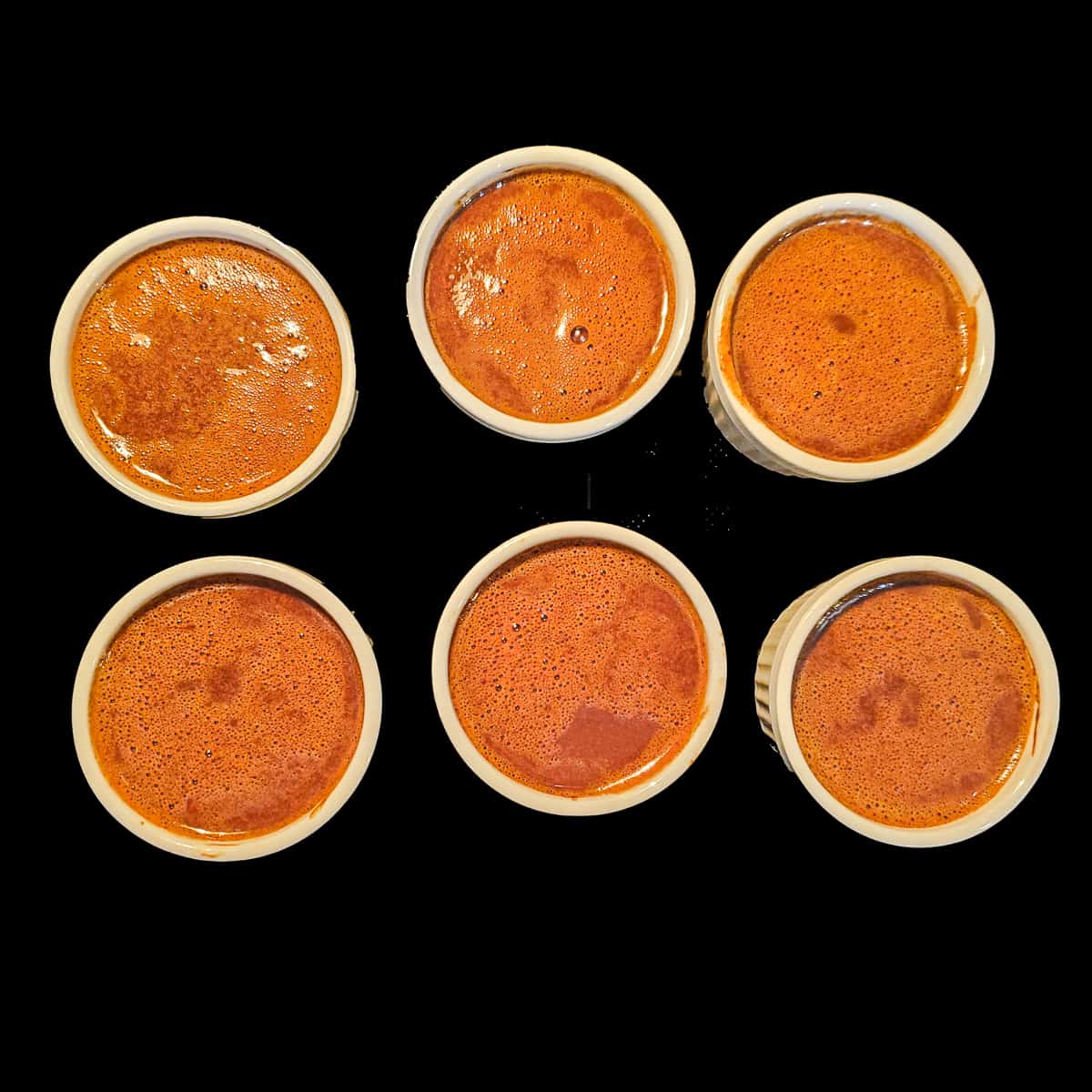 Pour 1 ½ cups of water into the pressure cooker and put in the bottom level of the trivet. Put three of the ramekins on the trivet.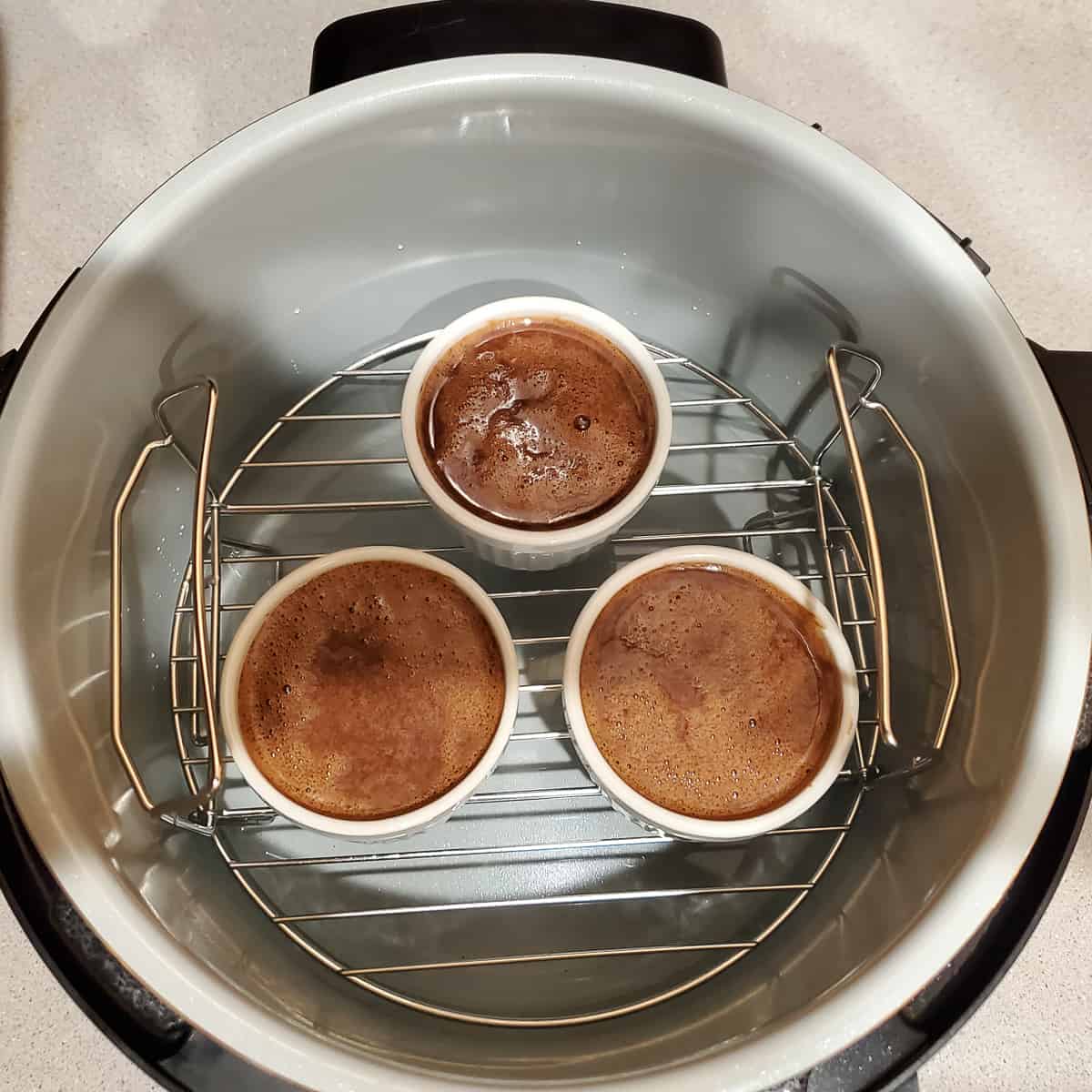 Put on the second level of the trivet and put on the next three ramekins.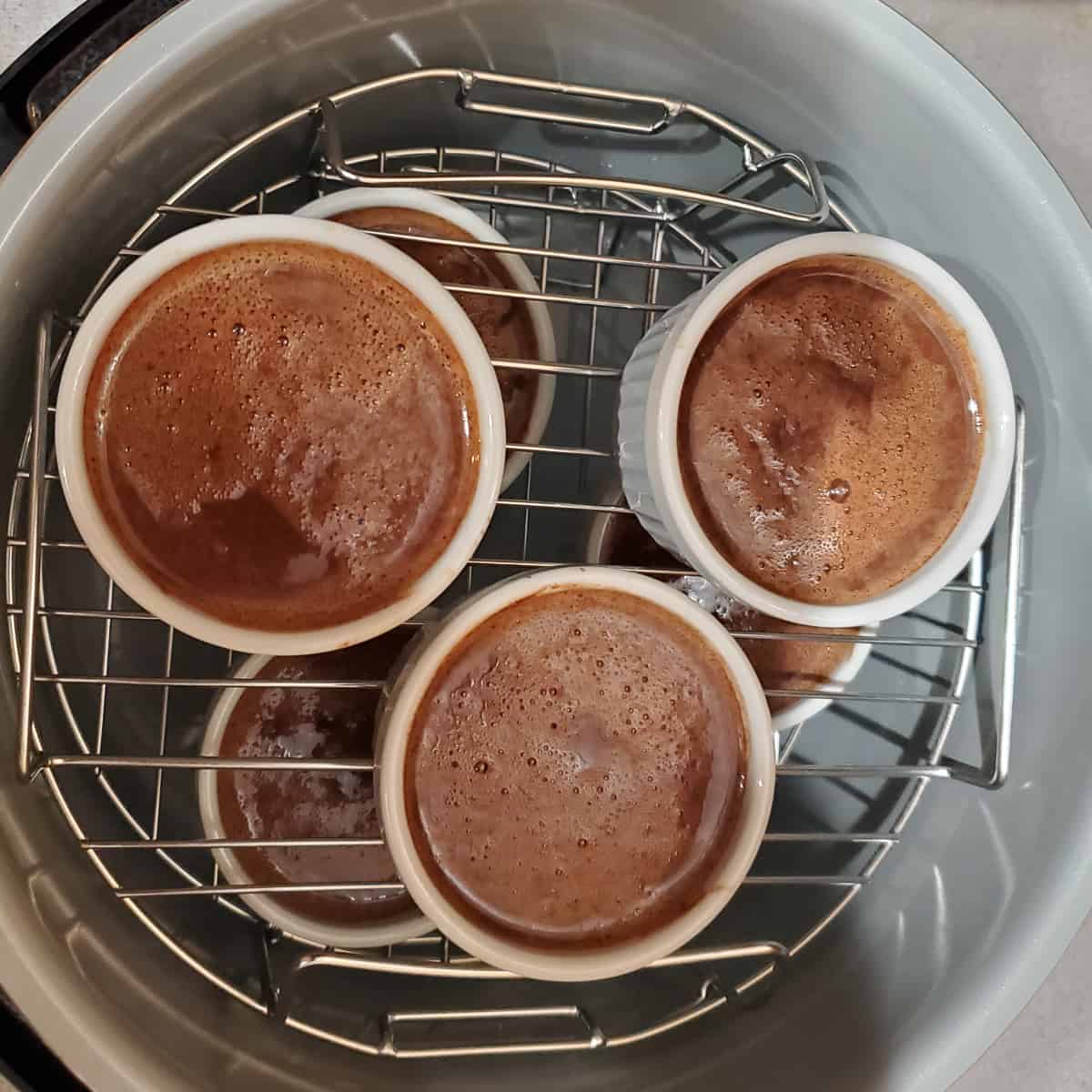 Turn on the Foodi. Close the Foodi lid and move the slider all the way to the left to "PRESSURE". Make sure the steam release is set to "SEAL". Use the arrows to decrease the cook time to 6 minutes.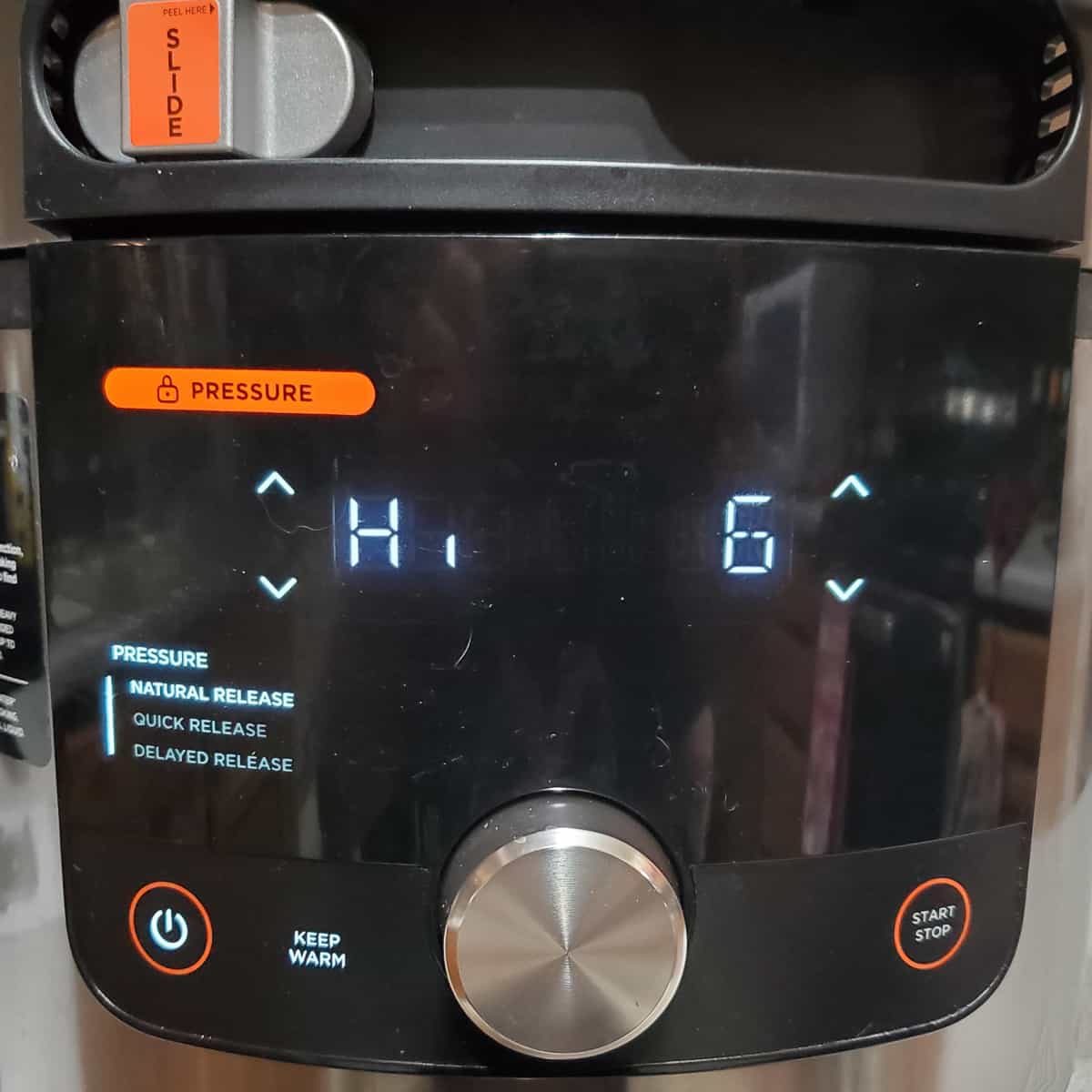 Here's our favorite feature of this cooker! Turn the dial to set "PRESSURE" to "DELAYED RELEASE". Use the arrows to set the time to 15 minutes. After the cook time is over, the Foodie will wait 15 minutes and then release the pressure! It will beep when that's done, and then you can flip the vent switch and release any remaining pressure.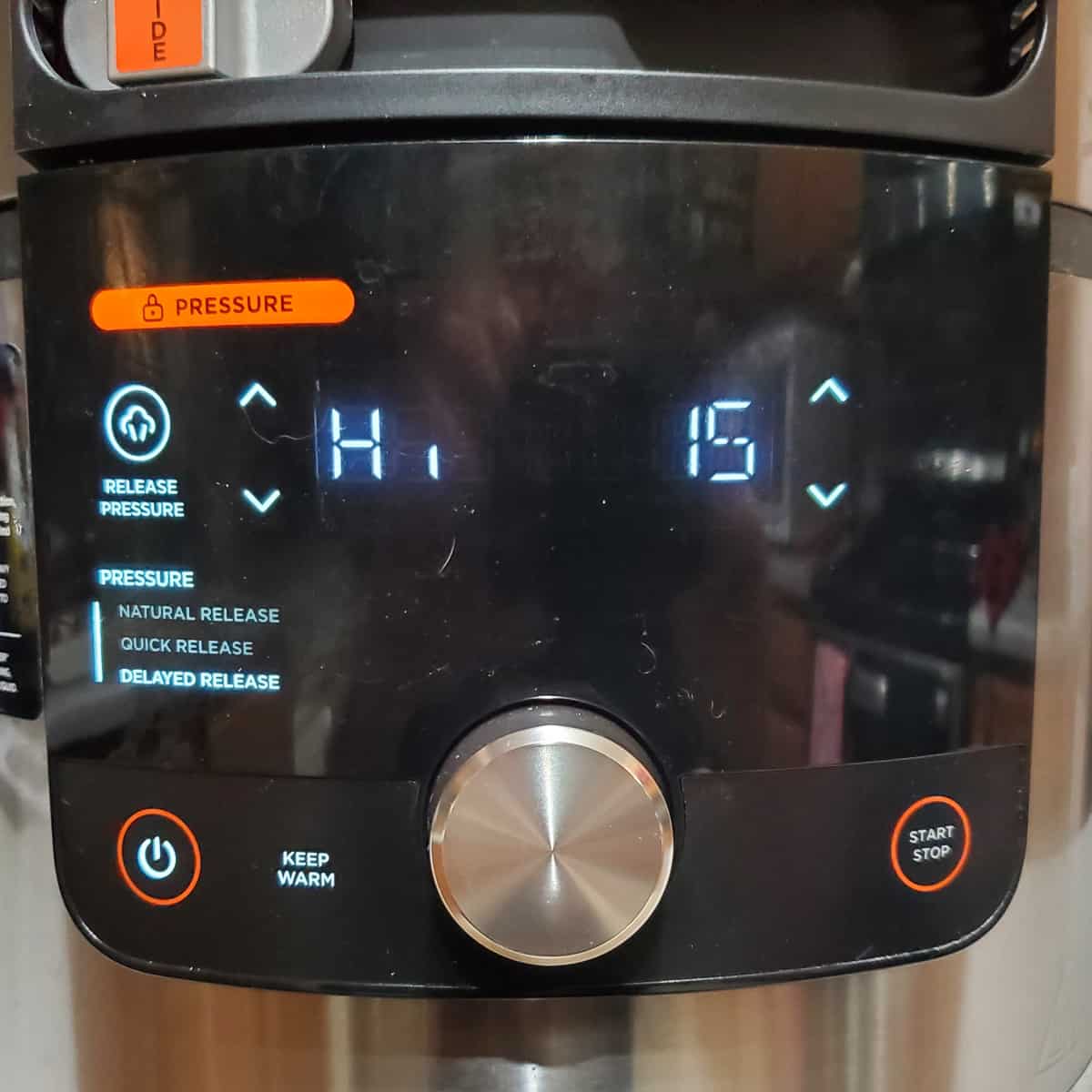 Carefully take the ramekins out of the Foodi and allow them to cool. Once they're at room temperature, put them in the refrigerator to chill and set up for at least 4 hours, preferably overnight.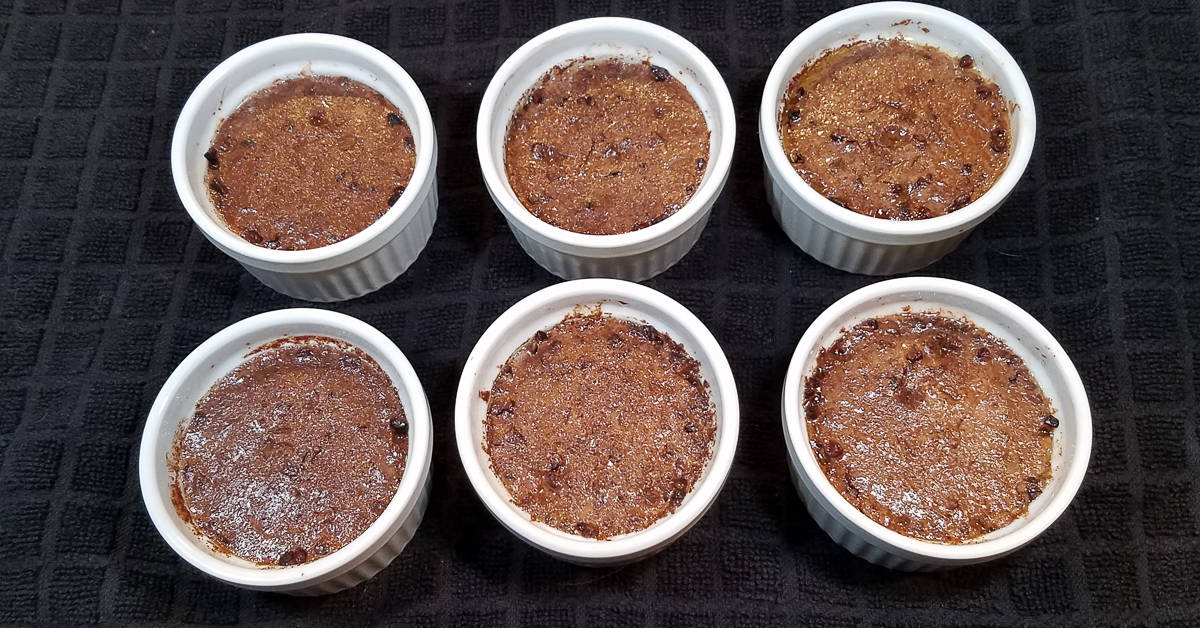 Eat, Comment, Like, and Follow!
If you liked this recipe, please leave a comment. We would also appreciate it if you would like and follow us on social media. And sign up for our newsletter to get news, new recipes, and fun food facts!
📖 Recipe Card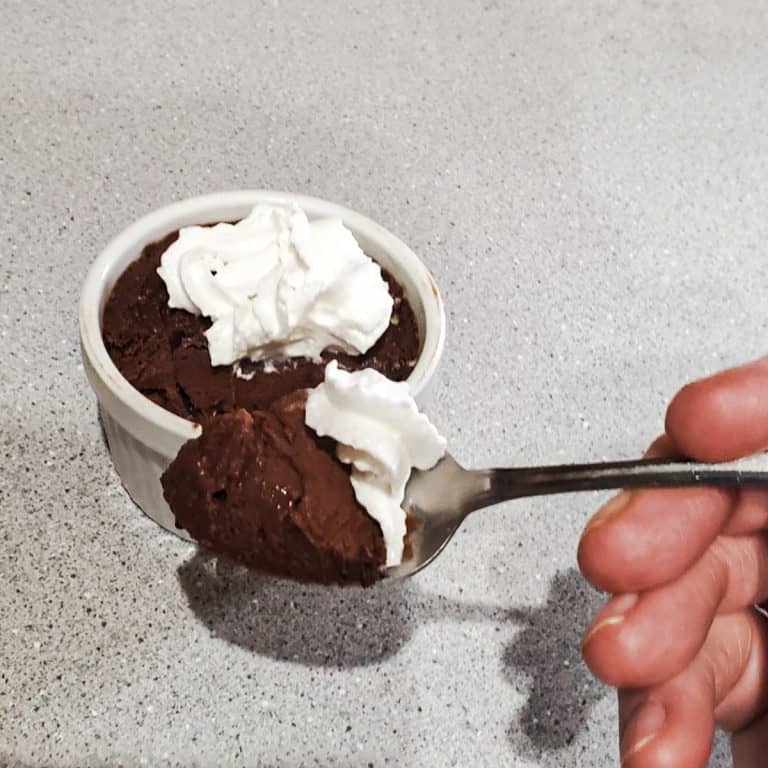 Ninja Foodi Dark Chocolate and Blood Orange Custard
This decadent desert gets its deep flavor from dark chocolate and blood orange juice and zest. Indulge yourself!
Special Equipment Needed
Ninja Foodi 14-in-1 8-quart SMART XL Pressure Cooker

or other multi-pot, for example an Instant Pot

Two-level pressure cooker trivet

6 Three-inch, 4-ounce ramekins
Ingredients
4

egg yolks

⅓

cup

sugar

1½

cups

heavy cream

¼

cup

milk

or half and half

6

ounces

dark chocolate

chopped

1

blood orange

zested

2

tablespoons

blood orange juice

1

teaspoon

vanilla extract

⅛

teaspoon

sea salt

1½

cups

water
Instructions
In a large mixing bowl, whisk the egg yolks and sugar; set aside.

Put the chocolate in a microwave-safe glass bowl. Microwave for 30 seconds, and stir. Repeat until the chocolate is mostly melted, then remove from the microwave and set aside at room temperature.

In a small saucepan, slowly bring the cream and milk to a low simmer, then remove the pan from the heat.

1½ cups heavy cream,

¼ cup milk

Slowly whisk the hot cream into the egg/sugar mixture, then whisk in the melted chocolate until fully combined.

Add the orange zest and juice, vanilla, and sea salt and whisk to combine. Pour the custard into 6 ramekin dishes.

1 blood orange,

2 tablespoons blood orange juice,

1 teaspoon vanilla extract,

⅛ teaspoon sea salt

Pour 1 ½ cups of water into the pressure cooker and put in the bottom level of the trivet. Put three of the ramekins on it.

Put the top trivet on and put the other three ramekins on it.

Close the Foodi lid and move the slider to the PRESSURE position. Make sure the pressure release valve is in the SEAL position.

Set the cook time to 6 minutes.

Turn the dial to set "PRESSURE" to "DELAYED RELEASE" and set the time to 15 minutes.

Press START/STOP. The Foodie will come to pressure, cook for 6 minutes, hold pressure for 15 minutes and then release. It will beep when done. Turn the valve lever to VENT to release any additional pressure.

Open the FOODIE from the front... do NOT open from the side! Carefully remove the ramekins and allow them to cool. Once they're at room temperature, put them in the refrigerator to chill and set up for at least 4 hours, preferably overnight.

Serve with whipped cream if desired. (And who doesn't desire whipped cream?)
Nutrition Estimate
Calories:
468
kcal
Carbohydrates:
28
g
Protein:
6
g
Fat:
38
g
Saturated Fat:
22
g
Polyunsaturated Fat:
2
g
Monounsaturated Fat:
11
g
Trans Fat:
1
g
Cholesterol:
214
mg
Sodium:
87
mg
Potassium:
290
mg
Fiber:
3
g
Sugar:
19
g
Vitamin A:
1091
IU
Vitamin C:
4
mg
Calcium:
88
mg
Iron:
4
mg
THIS RECIPE IS FROM
The Spice of Your Life - https://thespiceofyourlife.com