We've been doing a massive whole-house cleanup recently, including reorganizing our bookshelves, and I've been finding a lot of cookbooks that I haven't used in a long time. Which is easy to do when your collection spans three large shelves! Here's one of them that needed to be rediscovered.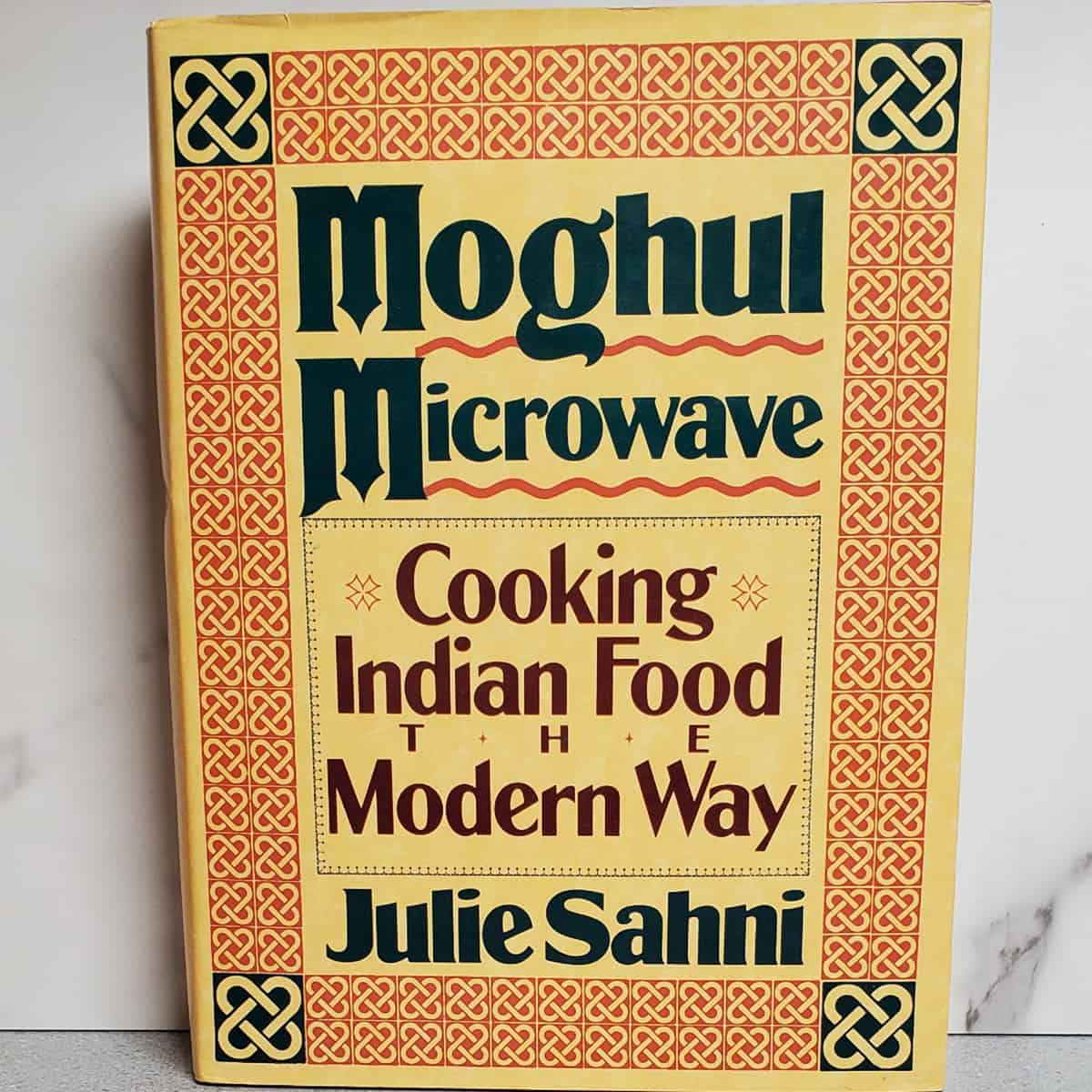 Let me take you back to the days before the Instant Pot revolutionized home cooking! In the no-so-distant past, the miracle kitchen appliance was the microwave oven. Surveys at the time reported that most people used their microwave ovens for thawing frozen food, reheating leftovers, and making popcorn. But we were mavericks—we actually cooked in our microwave. Including making Indian recipes!
Back in the day (we're talking the late 1980s here) I subscribed to the Time Life "Microwave Cooking Library". It was 28 books of recipes and techniques. We used it a lot. It's long out of print, of course, and mostly long forgotten. You can still find the occasional volume on ebay or used book stores. (And yes, I still have the set!)
We looked for other microwave cookbooks, but there weren't many of them to find. One treasure was "Moghul Microwave" by Julie Sahni (1990). Five hundred pages of Indian recipes adapted for the microwave! And they were wonderful recipes. We made a lot of them and loved them all.
It is also out of print, but you can still find copies on used book sites like Alibris and AbeBooks. I did a search on the title for this post and found quite a few copies, including a couple of new copies at reasonable prices! If you love Indian food and want to explore a different way of preparing it, I encourage you to search for a copy.
What's in the Book?
Here are the chapters, with a couple of "teaser" recipes from each to tempt you. Get yourself a nice cuppa tea, it's a long list!
Appetizers and First Courses: Peppery Candied Pistachios; Glazed Cucumber and Scallop Salad with Coriander
Soups: Cool Cream of Mint Soup; Fragrant Cauliflower and Fennel Soup
Fish and Seafood: Malabar Salmon in Delicate Coconut Sauce; Fiery Goanese Shrimp
Chicken and Other Fowl: Ginger Chicken Kabob; Duck Vendaloo (Vindaloo)
Meat: Moghul Lamb in Creamed Spinach Sauce; Goanese Roast Pork with Cinnamon-Ginger Gravy
Vegetarian Dishes: Green Peppers in Spicy Yogurt Sauce; Malabar Vegetable Stew with Coconut
Vegetables: Fiery Mangalorean(*) Eggplant; Zucchini Braised in Tomato Cumin Sauce
(*) Not Mandalorean, this is not a Star Wars recipe!
Salads and Yogurt Raita: Fragrant Cabbage Salad with Ginger Slivers and Tomatoes; Moghul Saffron and Mango Yogurt Raita
Dal and Legume Dishes: Mustard- and Garlic-Flavored American Yellow Split Peas; Bombay Sweetish-Sour Garlic Lentils
Pilafs and Steamed Cakes: Moghul Glazed Peach Pilaf; Malabar Shrimp and Rice Cakes
Chutneys and Dipping Sauces: Sweet Cranberry Pistachio Chutney with California Black Figs; Spicy Indian Tomato Sauce
Desserts: Tamarind Sorbet; Warm Five-Nectar Sauce
Sweet Somethings: Banaras Sweet Milk; Candied Fennel with Pine Nuts
Beverages: Monsoon Cooler; Rose Milk
The Moghul Pantry: essential ingredients you can make at home, like Paneer Cheese, Vendaloo Sauce, and Moghul Garam Masala
Did That Make You Hungry?
Did some of those recipe names make you curious? That's just a sample of what's in the book! If you're intrigued, search out a copy and dust off your microwave!
We'll, I'm definitely hungry now! We haven't used this cookbook in years, so I'm going through it and tagging a lot of recipes we want to make! First up" Whole Cauliflower with Vendaloo Sauce, and Zucchini Braised in Tomato Cumin Sauce!