Hey kids, what's your favorite sausage? If you said kielbasa, move to the front of the line! This is a hearty soup with tons of vegetables, and just enough sausage to give it a smoky accent. Serve it with a crusty bread, and garnish it with sour cream and sauerkraut!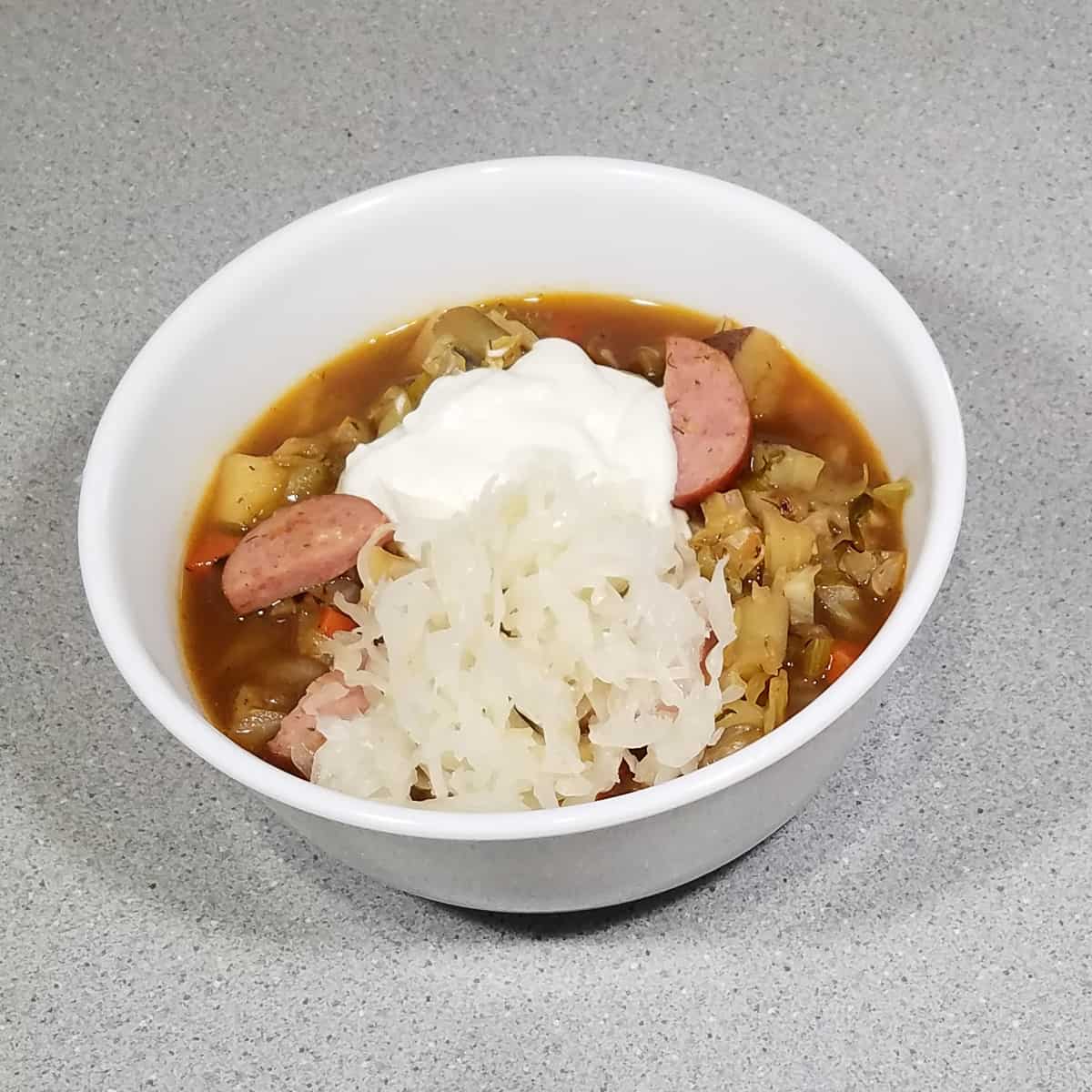 Jump to:
Why I Love This Soup
We grew up in the Chicago area, which is one of the great American melting pot cities. It has always had a large population with central European heritage, including Polish and German—which meant that there was a large variety of sausages available! Now that we live in Denver, it's hard to find more than kielbasa, bratwurst, and chorizo in the supermarket. Fortunately, we love kielbasa, and it partners well with cabbage in soups and casseroles.
Ingredients You'll Need
kielbasa
onion
carrots
celery
garlic
cabbage
chicken broth
red potatoes
dill weed
caraway seeds
smoked paprika
salt and pepper (We use white pepper in soups and stews.)
apple cider vinegar
sour cream
sauerkraut
Variations
Leave out the kielbasa and use vegetable broth to make it a vegetarian meal.
Substitute another sausage, or even slice up a pound of bacon and fry it up!
Use a different kind of potato.
Notes on Prepping the Vegetables
When you're chopping veg like celery and cabbage, use everything! See those leaves at the top of the celery stalk? Don't you dare throw them away! There's a ton of flavor in those leaves. Slice them thin and throw them in the pot! Same with carrots. If you're lucky enough to find carrots with the greens still on, use them! You know what carrots are related to? Parsley! You know what else is in the carrot family? Dill! So chop up those greens and add them to the soup!
Now let's get to the bottom of things. Cabbage and cauliflower have a dense core at the bottom, and some recipes tell you to cut it out and discard it. Don't do that! Cut the core into thin slices or chop it finely and add it to the dish. Yes, it has a bitter taste, but that adds another layer of flavor and it's not strong enough to have a negative effect. Unless you have a superb palette, and if you do you should apply to be on MasterChef.
And you'll notice from the pictures that we don't peel the potatoes either. Nor do we peel carrots. We pretty much don't peel anything unless it has a thick, tough, or inedible peel. Or unless it's a banana.
Make This Hearty Kielbasa Soup
Slice the sausage lengthwise, then cut crosswise into ¼-inch slices. Sauté it in a large pot over medium-high heat for about 5 minutes until it starts to brown. Remove the sausage to a plate and set aside.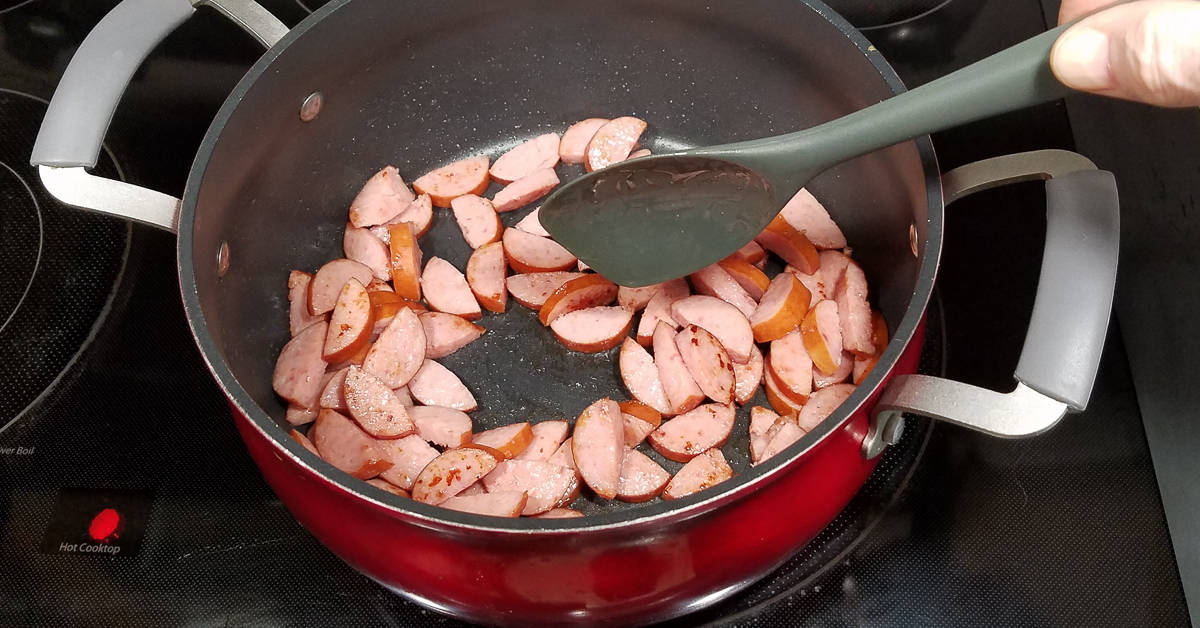 Add the oil, onion, carrot, and celery to the pot. Yes, you in the back, do you have a question? What are those white bits in the pot? The recipe calls for 2 cups of carrots, but we didn't have enough. But we did have a parsnip, which is a close relative of carrots. Don't be afraid to make substitutions!
Sauté the vegetables for about 5 minutes until they start to brown. Then turn the heat down to medium and cook for about 4 minutes until they soften.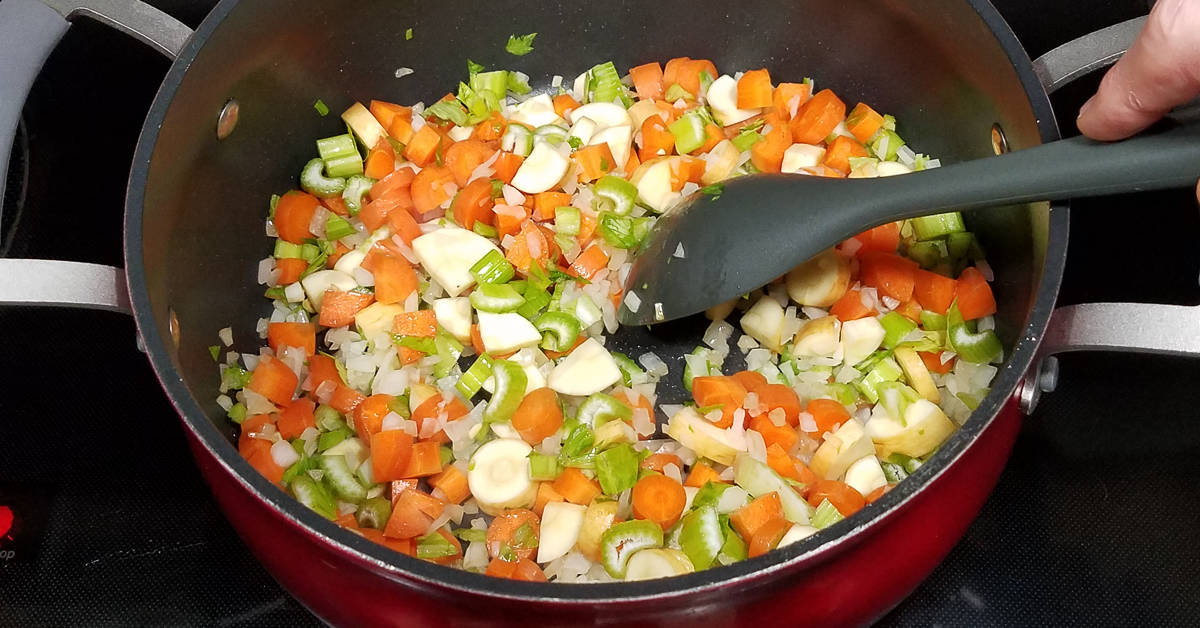 Add the garlic and cook for about a minute. That looks good already!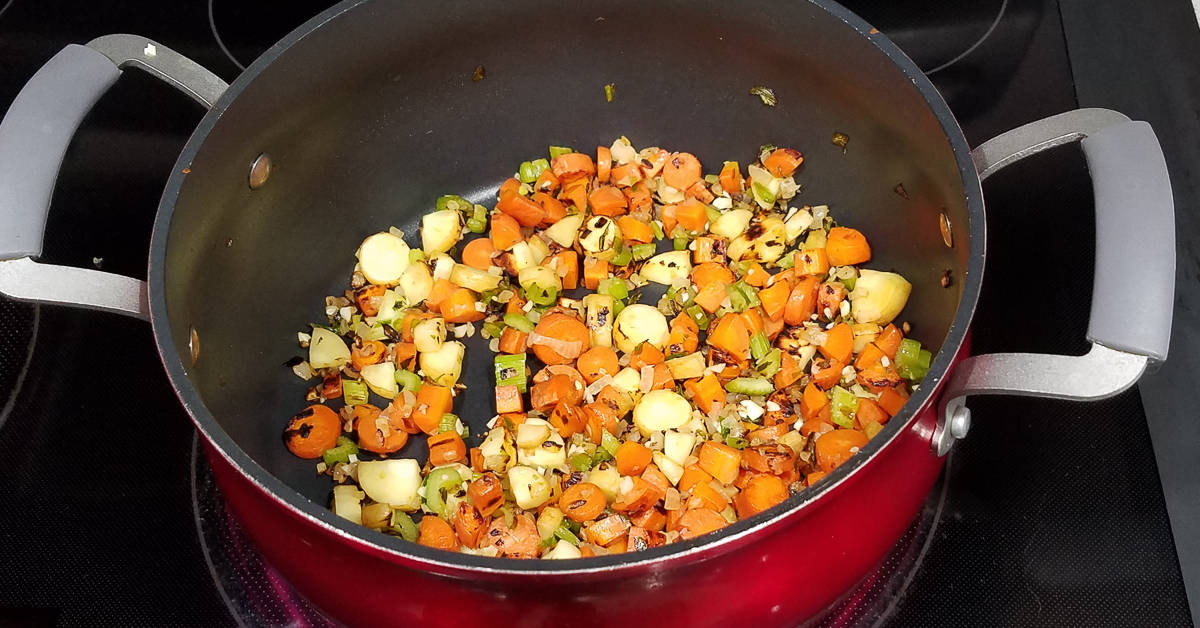 Time to add the cabbage! It might look like there's too much to fit in the pot, but don't worry, it will cook down. Put in as much as will fit, stir until it's reduced, then add more. This is about half the cabbage. Here's a tip: Add a couple of tablespoons of stock to the pot after you put the cabbage in. That will create steam that will help wilt the cabbage.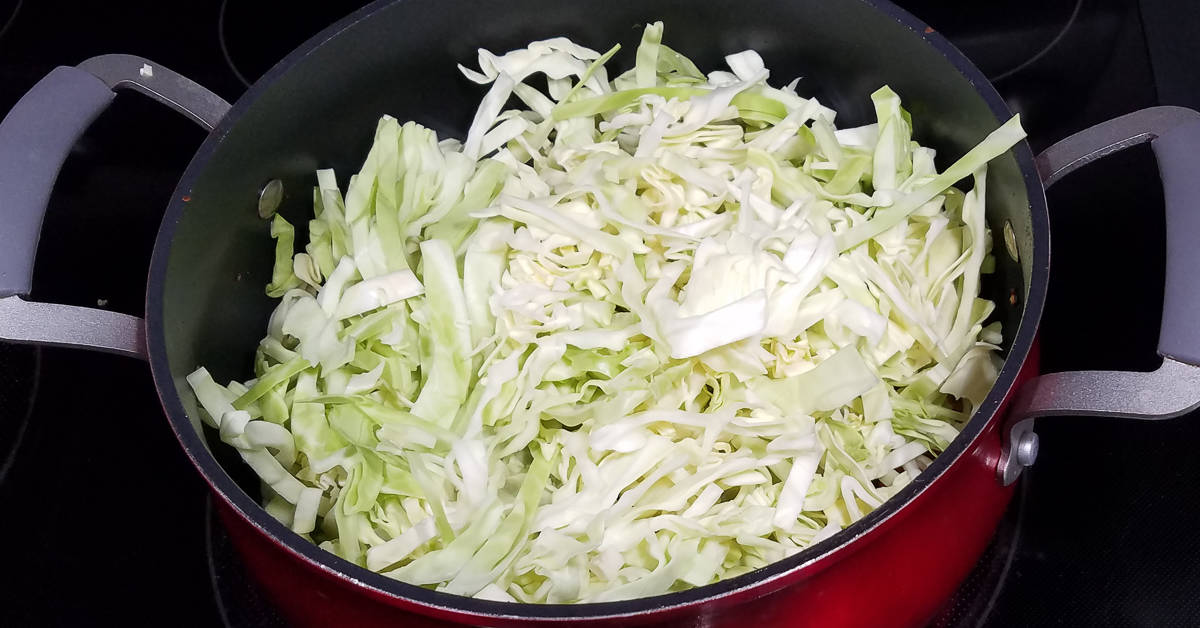 The only song that I can sing is boil that cabbage down! Here's all the cabbage in the pot. Plenty of room!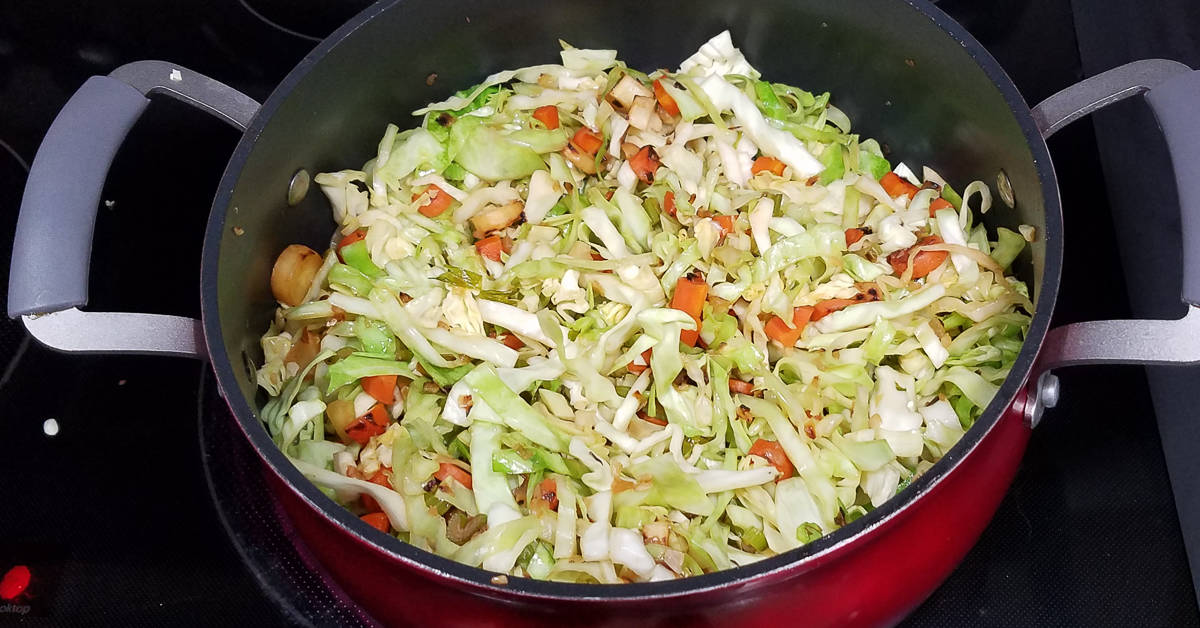 Add the broth, potatoes, dill, caraway, paprika, pepper, and salt. Now that's a full pot!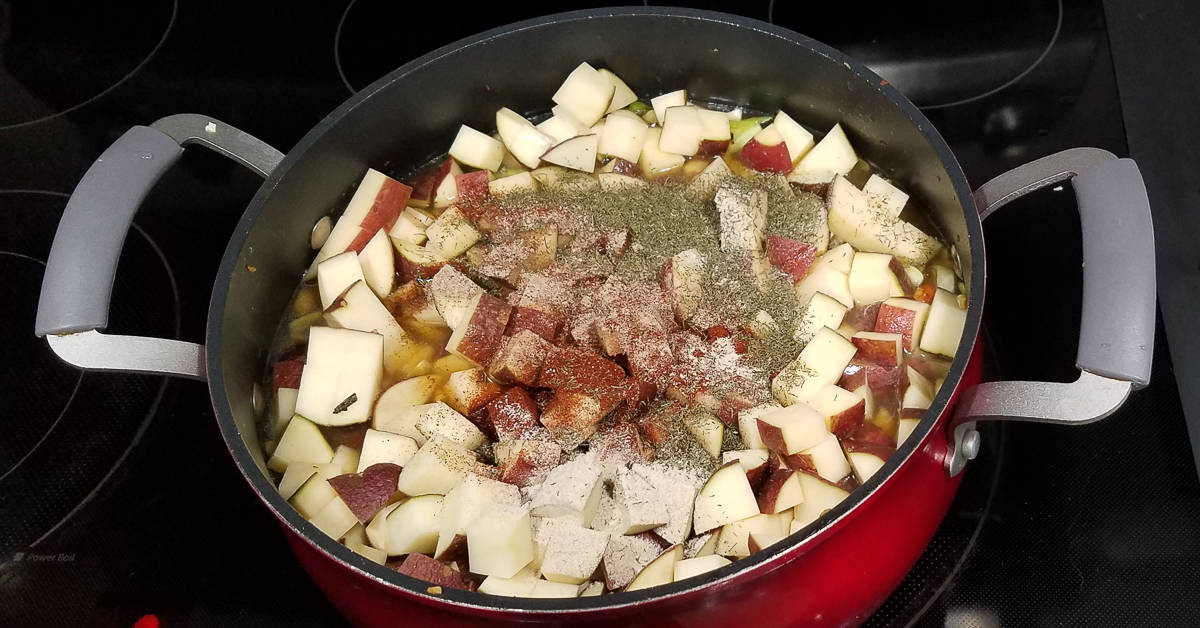 Stir it up!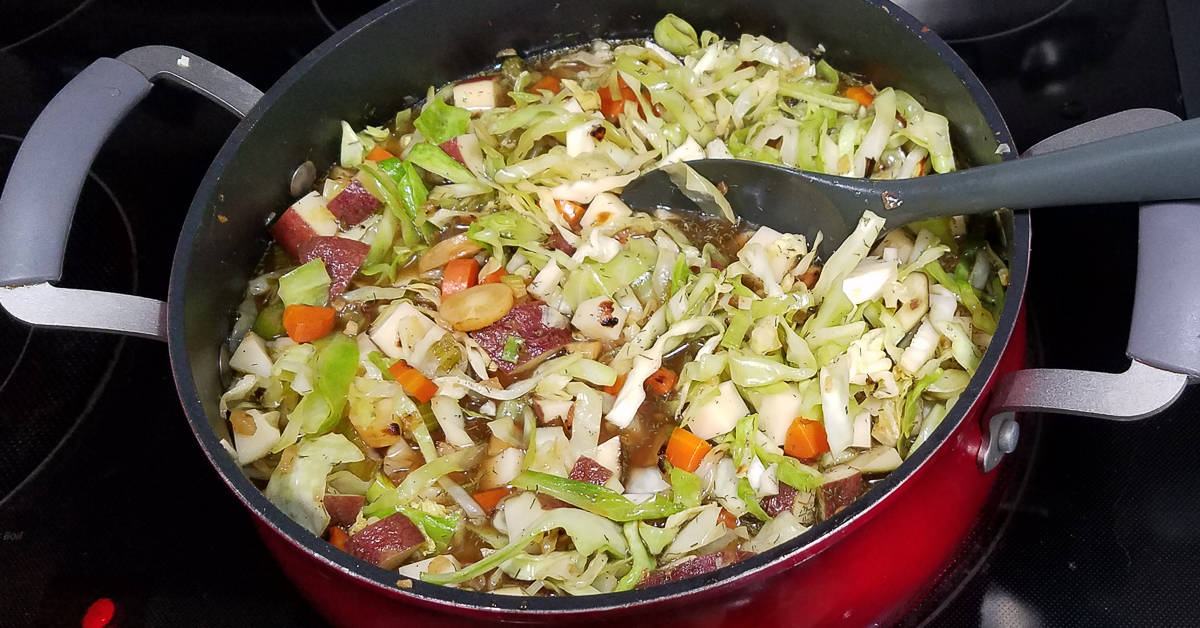 Cover the pot and bring it to a boil. (I watched the pot. It boiled anyway.)
Take the lid off, turn the heat to low, and let it simmer for 30 minutes.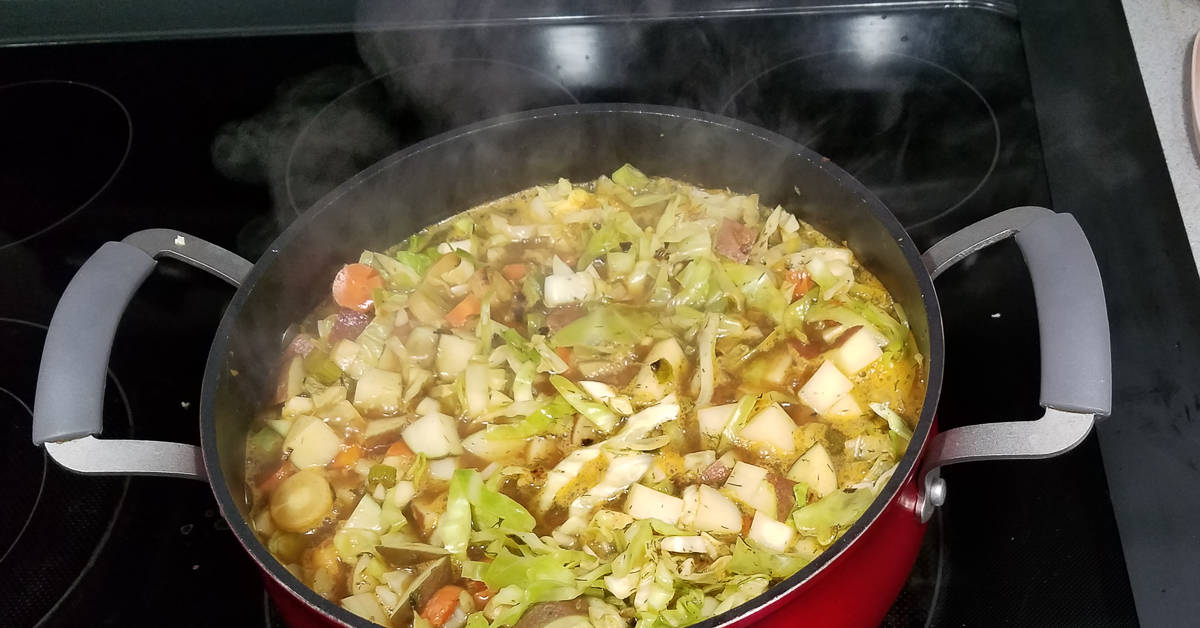 Stir in the apple cider vinegar and the kielbasa. Soup's on! This soup is so thick it's almost a stew! Taste and adjust the salt and pepper, and add a bit more stock if you like.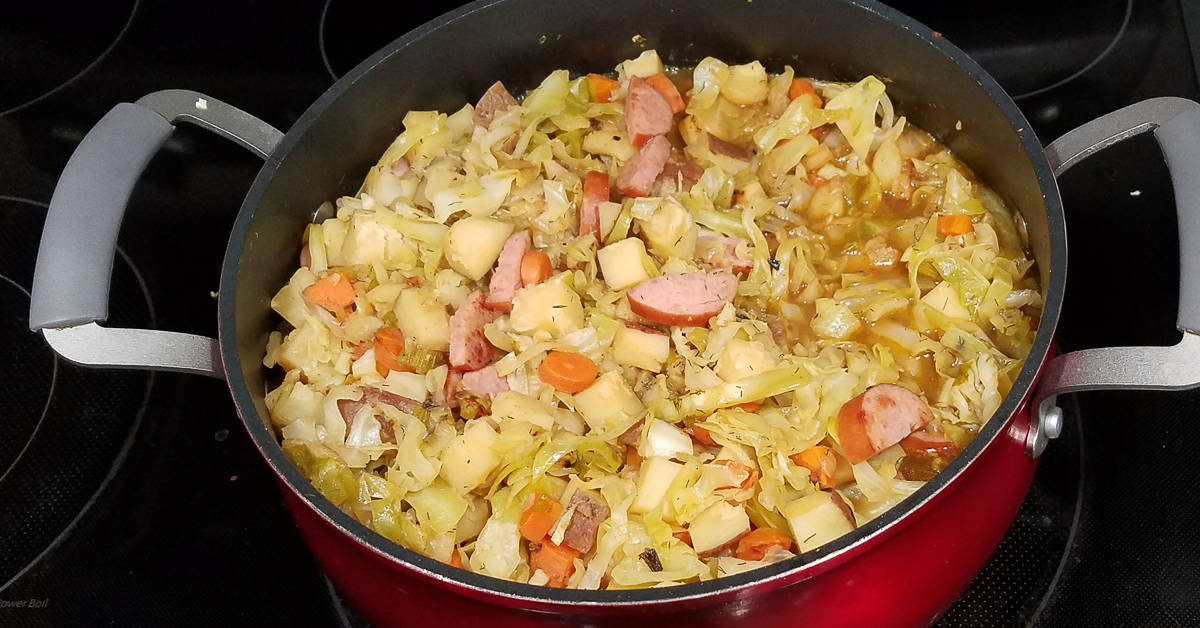 Serve garnished with sour cream and sauerkraut. The sauerkraut gives it a nice zing!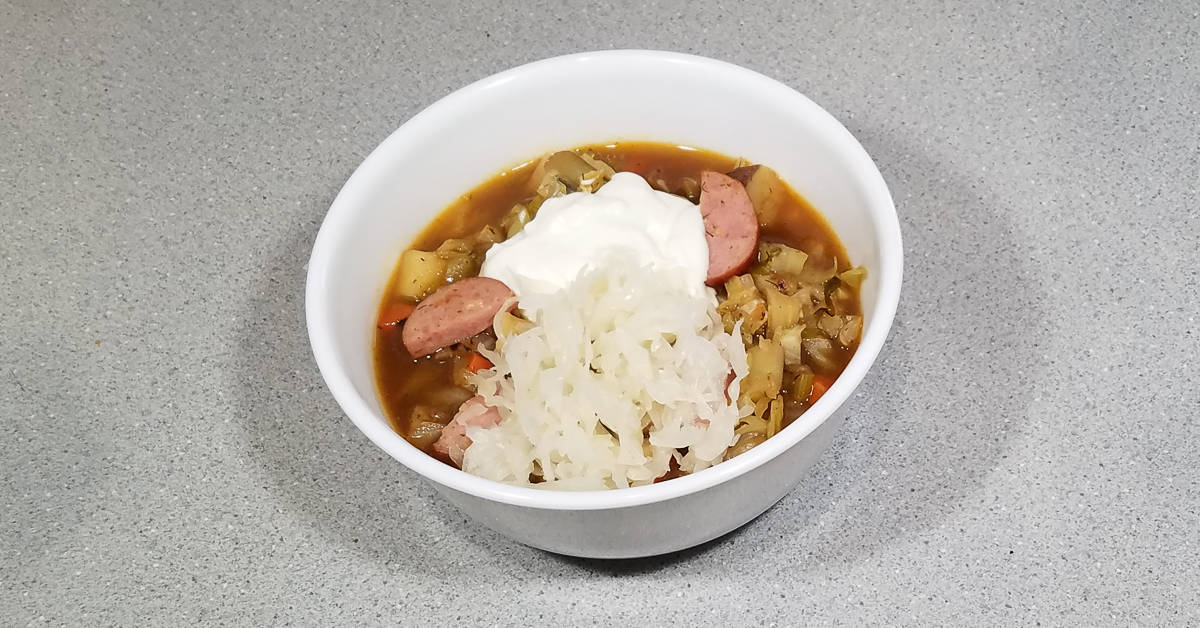 Eat, Comment, Like, and Follow!
If you liked this recipe, please leave a comment. We would also appreciate it if you would like and follow us on social media. And sign up for our newsletter to get news, new recipes, and fun food facts!
📖 Recipe Card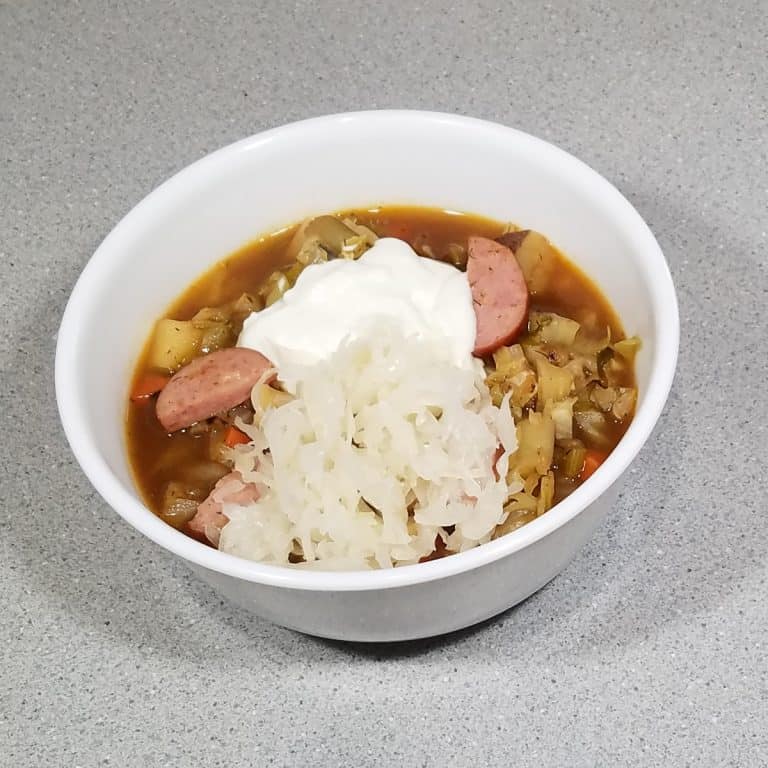 Kielbasa and Vegetable Soup
This is a hearty soup packed with vegetables and accented with smoked sausage. All it needs is a loaf of rustic bread and it's a complete dinner.
Ingredients
16

ounces

kielbasa

2

tablespoons

olive oil

1

onion

chopped

2

cups

carrots

diced

¾

cup

celery

diced

2

cloves

garlic

minced

8

cups

cabbage

quartered and thinly sliced

8

cups

chicken broth

4

cups

red potatoes

diced

1

tablespoon

dill weed

1 ½

teaspoons

caraway seeds

toasted and ground

1 ½

teaspoons

smoked paprika

¾

teaspoon

pepper

½

teaspoon

salt

2

tablespoons

apple cider vinegar

Sour cream

for garnish, optional

Sauerkraut

for garnish, optional
Instructions
Cut the kielbasa in half lengthwise, then crosswise into ¼-inch-thick slices. Sauté in a large pot over medium-high heat for about 5 minutes until the sausage is browned and the fat has rendered. Transfer to a plate with a slotted spoon and set aside.

Add the oil, onion, carrot and celery to the pot and sauté for about 5 minutes until the vegetables start to brown. Reduce the heat to medium and continue cooking for about 4 minutes until the vegetables are soft.

2 tablespoons olive oil,

1 onion,

2 cups carrots,

¾ cup celery

Add garlic and cook for 1 minute. Add the cabbage and cook for about 3 minutes, stirring occasionally, until the cabbage is slightly wilted.

2 cloves garlic,

8 cups cabbage

Add the broth, potatoes, dill, caraway, paprika, pepper, and salt. Cover and bring to a boil. Reduce the heat to low and simmer, uncovered, for about 30 minutes until the potatoes are tender.

8 cups chicken broth,

4 cups red potatoes,

1 tablespoon dill weed,

1 ½ teaspoons caraway seeds,

1 ½ teaspoons smoked paprika,

¾ teaspoon pepper,

½ teaspoon salt

Stir in the vinegar and kielbasa.

2 tablespoons apple cider vinegar

Serve topped with sauerkraut and sour cream, if desired.
Nutrition Estimate
Calories:
296
kcal
Carbohydrates:
17
g
Protein:
11
g
Fat:
21
g
Saturated Fat:
6
g
Polyunsaturated Fat:
2
g
Monounsaturated Fat:
10
g
Cholesterol:
40
mg
Sodium:
1552
mg
Potassium:
781
mg
Fiber:
4
g
Sugar:
5
g
Vitamin A:
5656
IU
Vitamin C:
49
mg
Calcium:
76
mg
Iron:
2
mg
THIS RECIPE IS FROM
The Spice of Your Life - https://thespiceofyourlife.com