I always loved Hot and Sour Soup in restaurants, and when I found an authentic recipe in the Thousand Recipe Chinese Cookbook I began to make my own soup.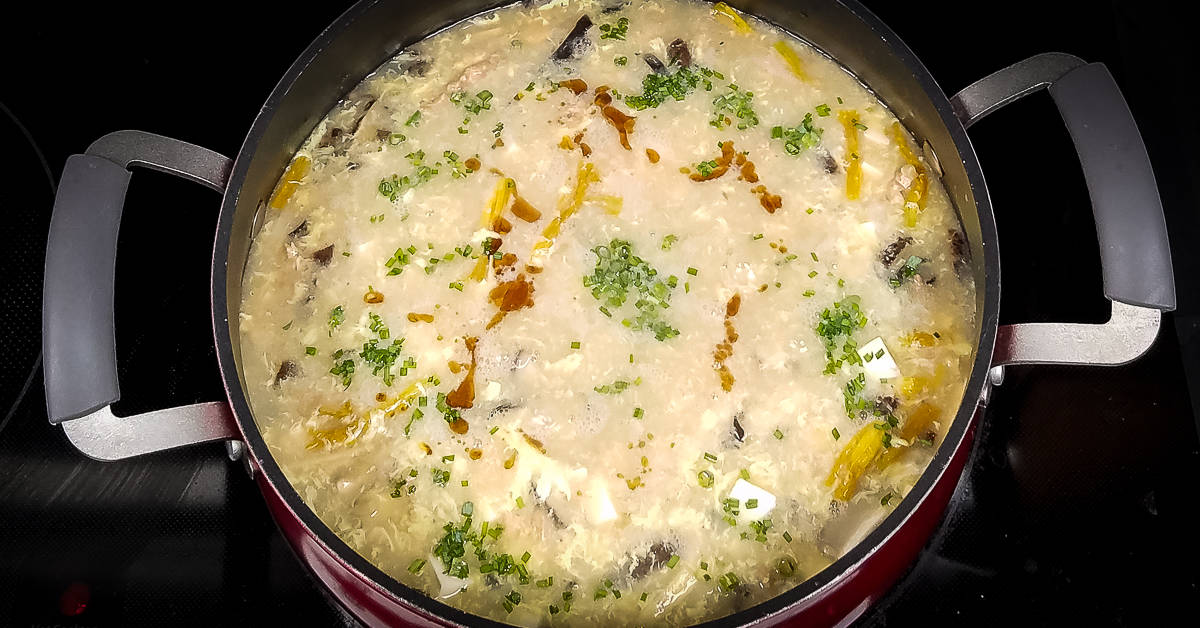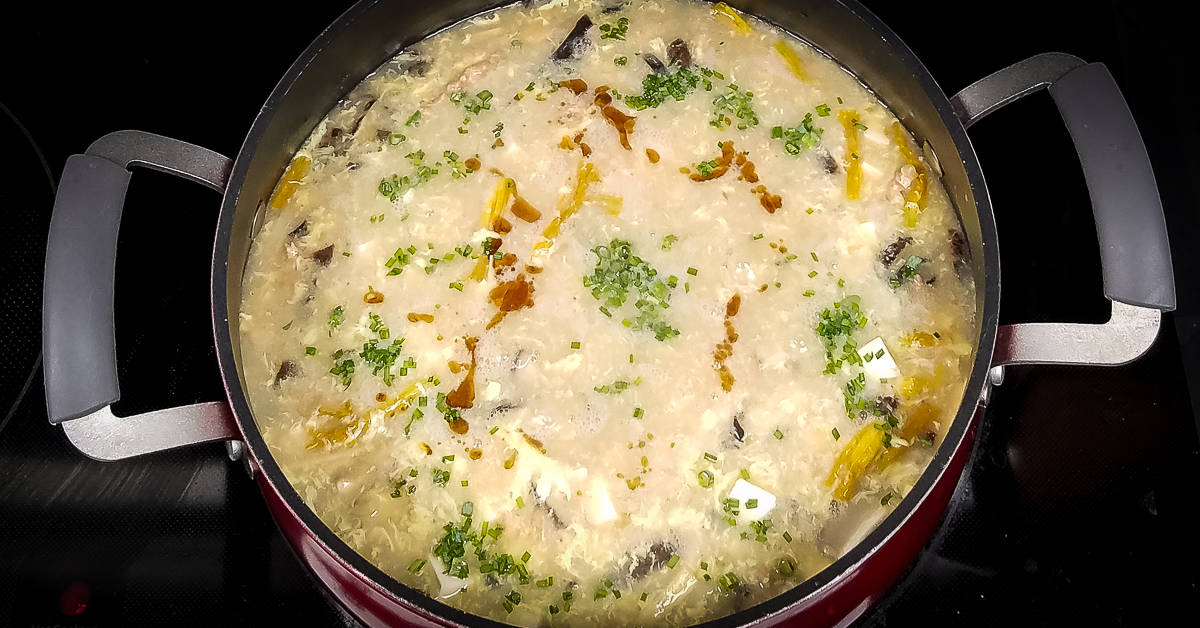 I could only find some of the ingredients, like wood ear mushrooms and dried lily buds, at an Asian grocery store. But I didn't like the texture or the taste of the dried lily buds, so I decided to grow my own day lilies and harvest the flowers the day after they had bloomed and closed up.
Fresh lily buds are edible—they're in the onion family—and they're delicious. You can put them in salads too, or as a fancy garnish for other dishes!
I have a patch in my garden were I've planted my lilies, and I kept adding different varieties which bloom at different times so that I always had fresh buds to pick during the growing season. I cut the buds in half when I add them to my soup at the last minute.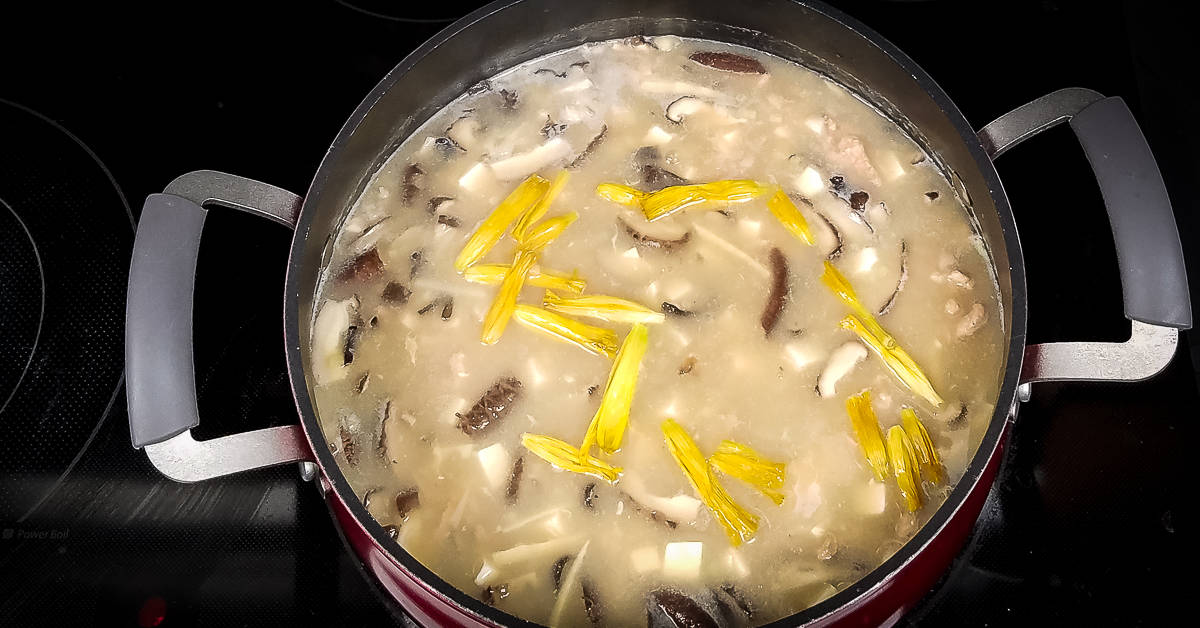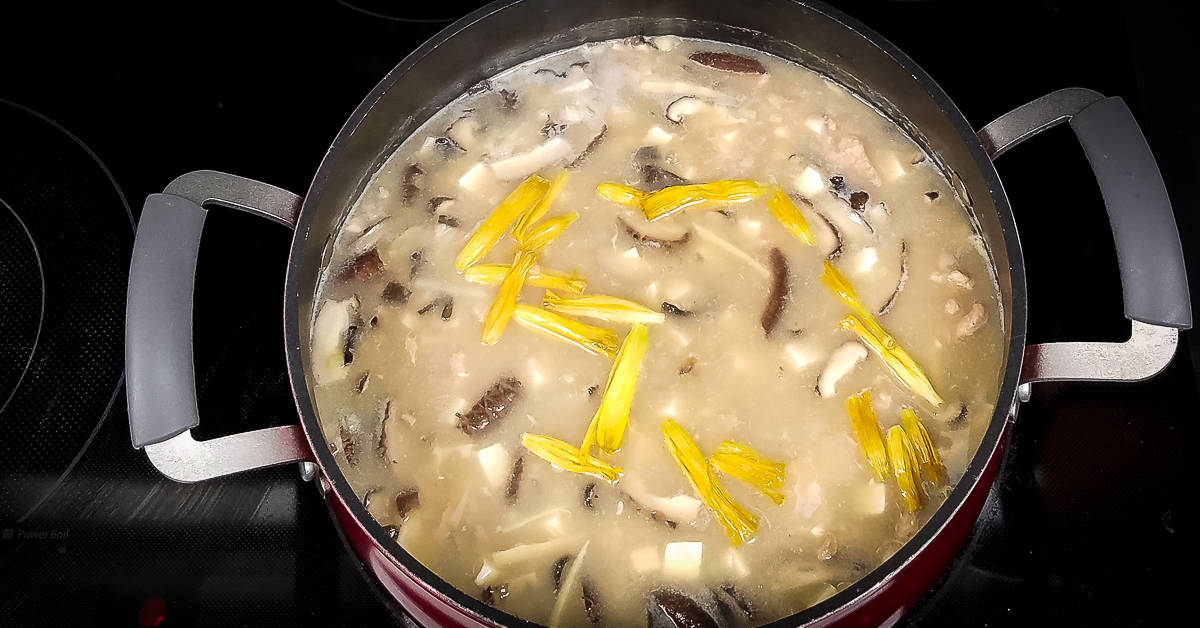 For the pork marinade I always used to use pork tenderloin, but lately I've been butchering a 15 pound cut of pork loin and freezing it in 1 pound packages, so now I'm using a pound of trimmed pork chop, which tastes very good in the soup.
You can get canned bamboo shoots and water chestnuts either whole or sliced. Since traditionally all the vegetables are cut into matchstick-sized pieces, I found that it was much easier to cut them when they are whole. Especially with the bamboo shoots, I found that when you get them sliced you end up with a lot of thick fibrous pieces that are inedible, and it also took forever to cut the edible pieces into sticks. If you get a can of whole bamboo shoot tips you have very tender shoots that are easy to slice up.
Since I love a lot of flavor in my food, I found myself gradually increasing the amount of spices I add to my soup. I have actually doubled the amount of fresh ginger I use, tripled the amount of vinegar, and doubled the pepper. I prefer white pepper in soups because the flavor is milder, and it has more heat.
For the tofu, I have tried a number of different densities of tofu and found the the extra firm holds up much better in soup, and I can also cut it very easily into smaller cubes.
My personal favorite for mushrooms is fresh shitake. You have to carefully remove the caps from the stems because the stems are very fibrous and not pleasant to eat. Otherwise, my next go-to fresh mushrooms are cremini (baby bella) followed by white mushrooms. But I always pick whichever are the freshest and firmest looking.
I make this soup often enough that I am now making if from memory, and I always let my whims decide how much to add to the soup, so no soups I make are exactly the same. Last night, Kurt said that this was the best one I had made yet and encouraged me to write it down.
I also make my own chicken stock whenever the grocery store has a sale on chicken quarters. I use my mother's traditional, handed-down recipe which makes a very thick and tasty stock. Mom was fond of calling it Jewish penicillin!
In addition to tasting wonderful, Hot and Sour Soup is very healthy, and is a great change from chicken noodle soup if you have a cold or the flu!