Sometimes your week goes sideways!
The past week has been a train wreck for the blog. Recipe problems, life interfering with plans, and whatever the latest bug is that's going around. (Not COVID, just some kind of cold or flu.) I didn't get any recipes posted this week, so I decided to take you behind the scenes at The Spice of Your Life.
This is a new blog. I started the business last July, spent six months building the site and learning about the food blogging world, and started posting recipes last month. I'm what the food competition shows call a "home chef", and this is going to be a "home cooking blog". There are a lot of professional or semi-pro blogs on the Web. (If anyone says "interwebs" I will smack them with a wooden spoon.) You've probably seen some elegantly styled and photographed food presentations. That's not me.
I don't "style" food. I cook it, and we eat it. I take the best photos I can with the equipment I have currently. When you see a picture of a plated dish on our site, that's what it looks like when we sit down to eat. If the blog is successful, I'll be able to upgrade my camera and lighting someday and re-shoot some of the older recipes. But I still won't be a food stylist!
So here we go, this is a tour of our kitchen.
Oven and Staging Area
Here's where the magic happens! The mise en place (ingredient setup) is to the left of the stove. I have everything laid out in bowls in the order in which they're used so I can just grab and add to the pan. Over to the left is our new Ninja Foodi multi-function grill, air crisper, BBQ griddle, baker, roaster, dehydrator, and broiler. You'll be seeing recipes made with it on the blog soon! It gets moved if there are a lot of ingredient bowls. Lifting appliances is where I get most of my exercise these days.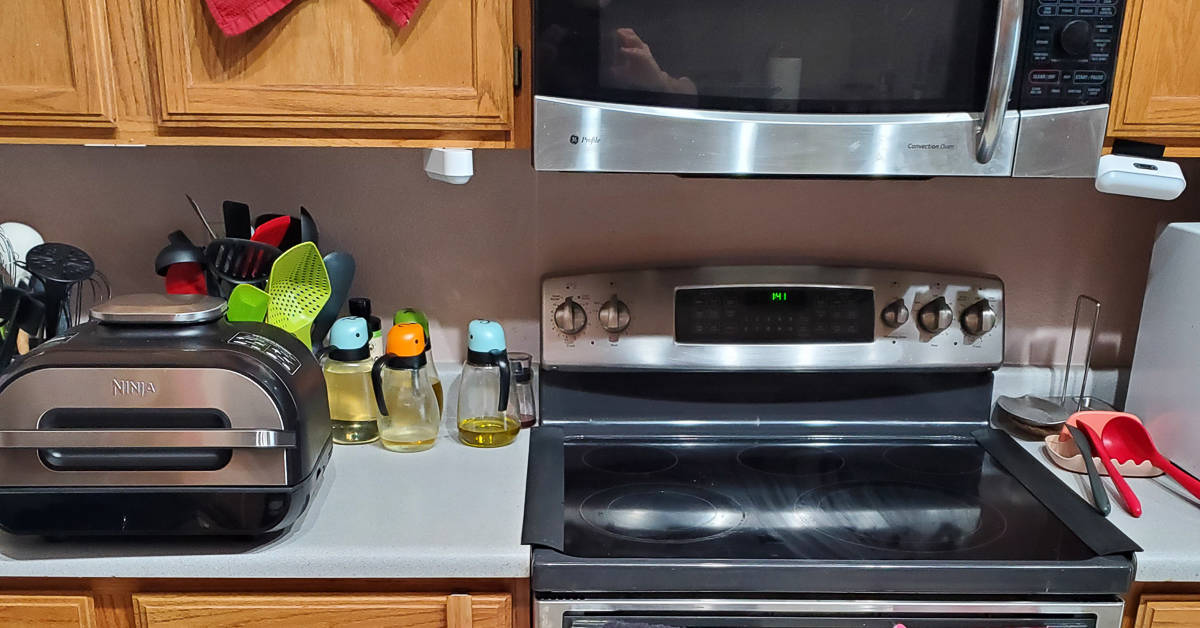 Prep/Staging Area 2
Off to the left of the oven is another counter where we can do prep and ingredient staging. And that's our bread machine. We like kitchen appliances. And knives. And spices.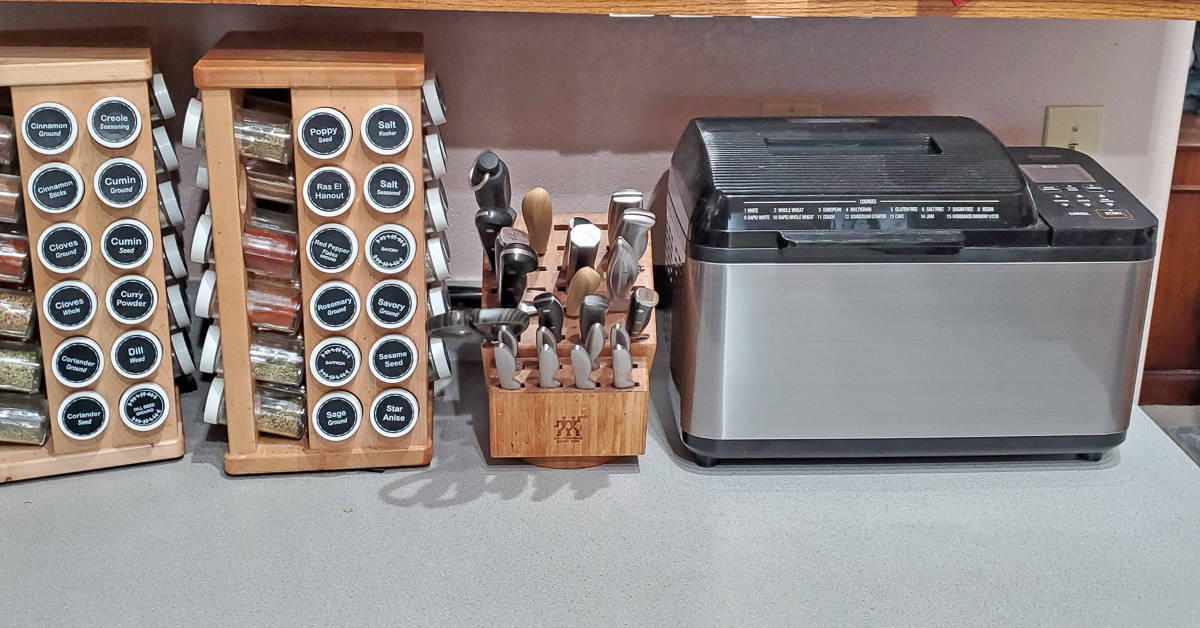 Main Prep Area
We got a couple of these rolling prep tables a few years ago. This is where all the chopping, slicing, and dicing happens. Scraps go in the compost bucket, and then to the compost bin outside, next to the greenhouse. Did I mention that we have a greenhouse? That's Debbie's baby. If you ask nicely she'll show it to you. Actually, if you walk past the house too slowly she'll show it to you.
The tablet is a cheap Android tablet running our recipe manager app, Paprika. Oh, and our Vitamix blender is hiding on the left, behind the cabinet.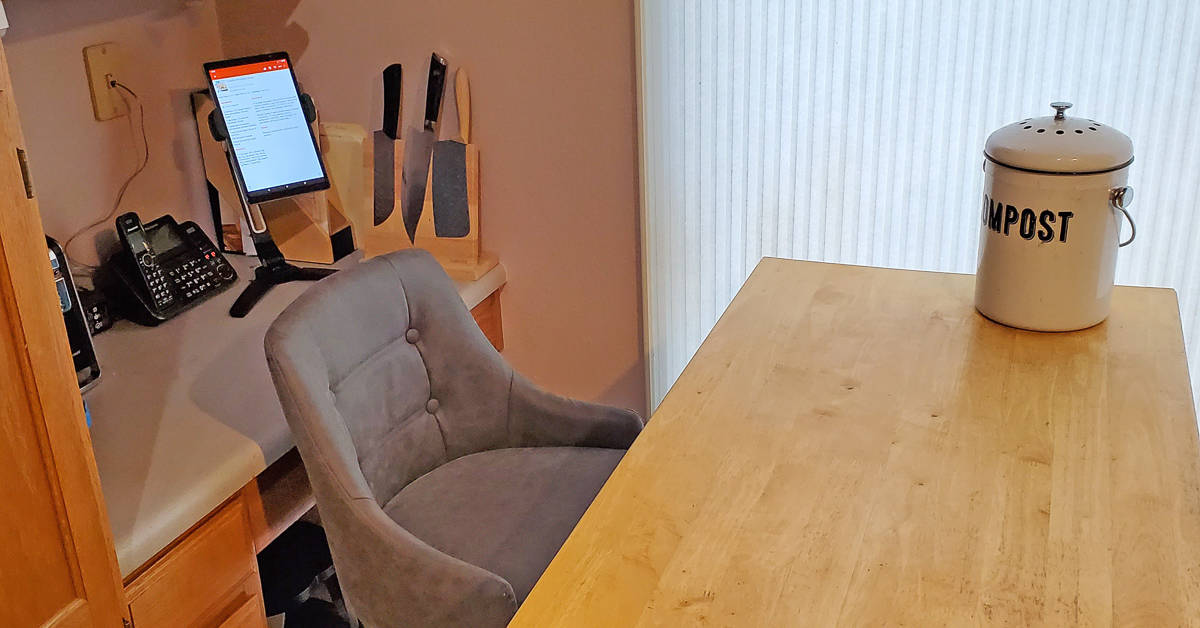 Prep Area 3
On the other side of the room is another prep table, which also holds our Ninja Foodie 14-in-1 multi-pot, our Ninja Foodi dual-basket air fryer, and our KitchenAid. Did I mention that we like kitchen appliances?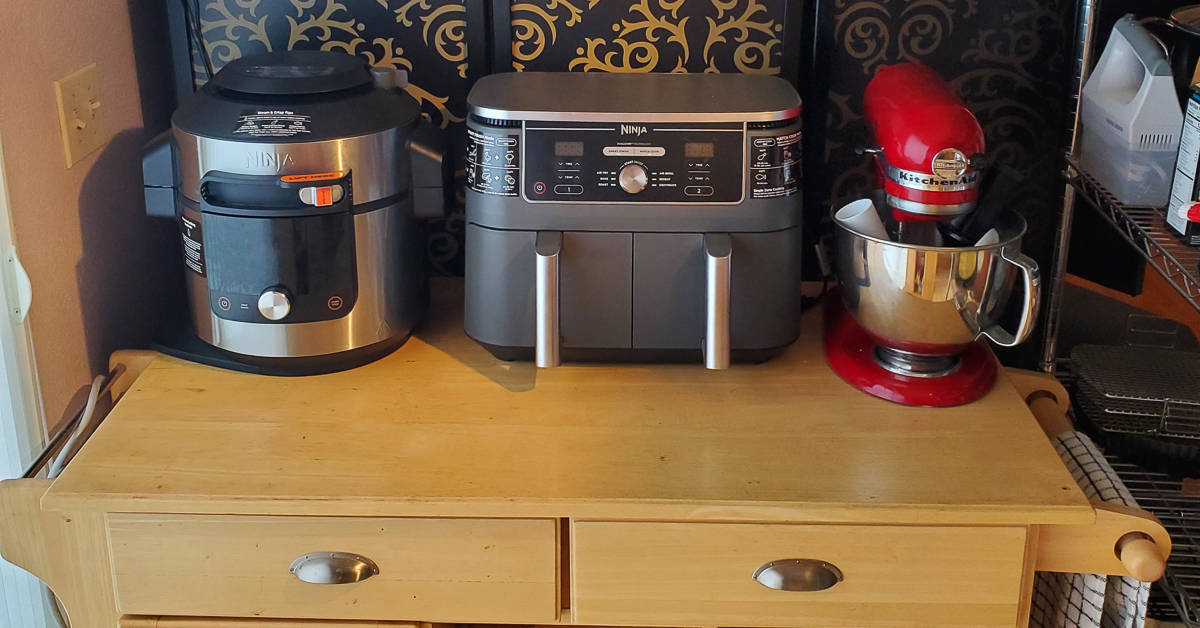 Photo Area
When I'm doing a photo shoot I spin the first prep table around and bump it up to the second to give me a large surface area for photographing ingredients. I flip our large cutting board over to give a little more texture to the photos.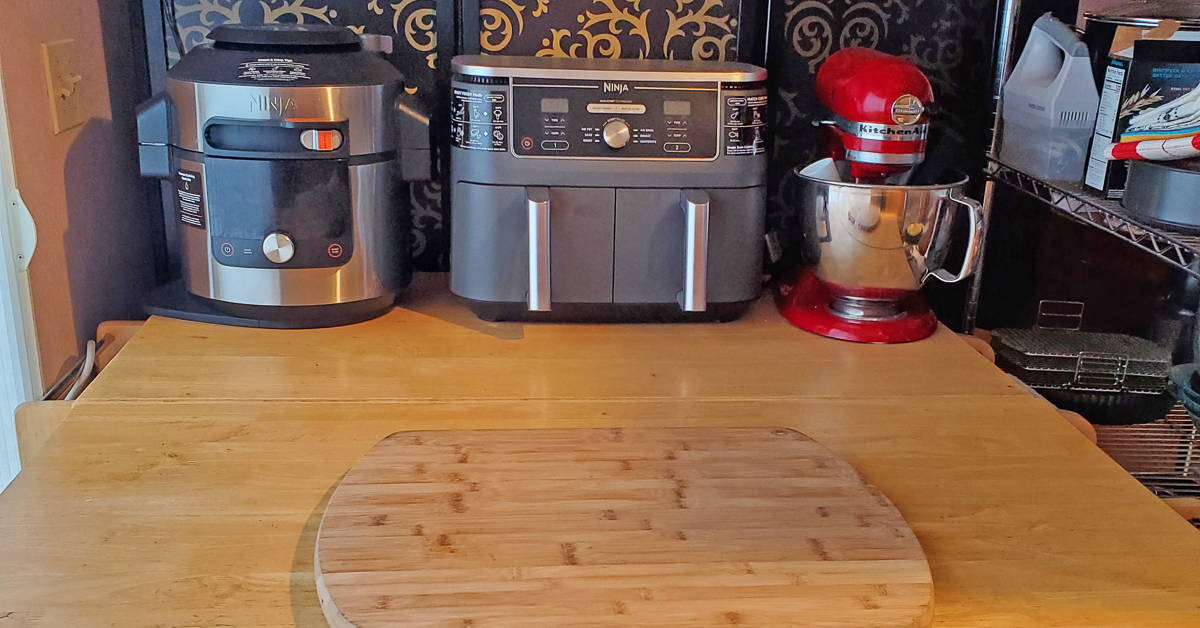 The Camera Rig
Here's how I take pictures of the ingredients and cooking steps. This rig can hold multiple cameras, and it has LED spot lights. The round black thing on the top can hold a microphone. And there's our microwave on the right, because appliances!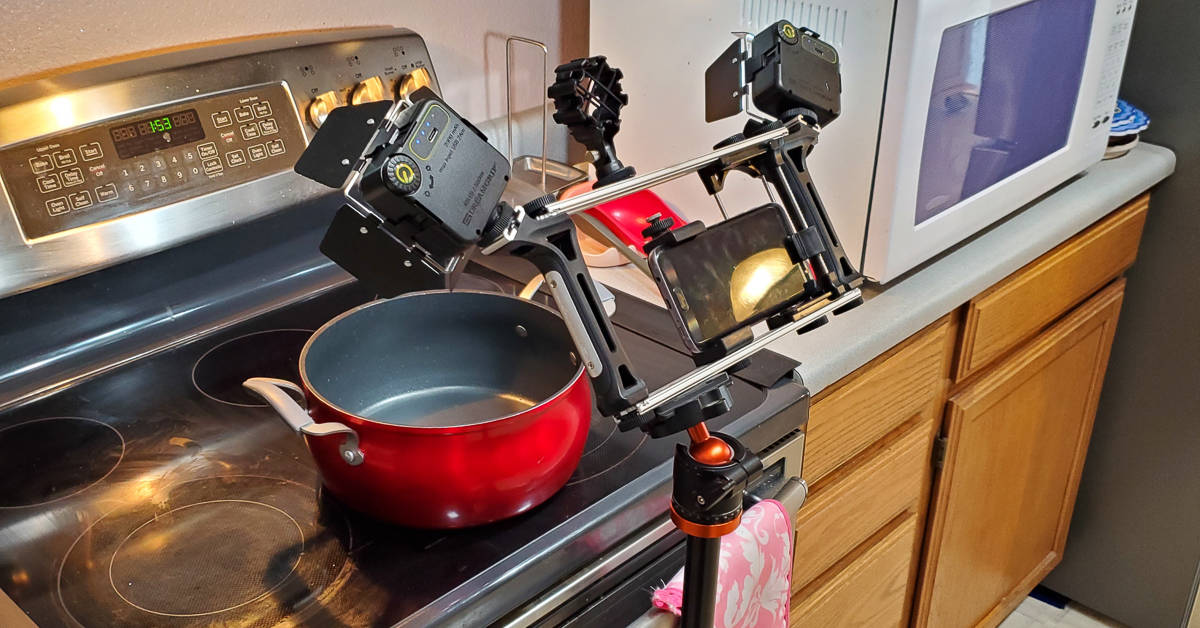 The camera is a Samsung Galaxy S7. When I upgraded to the S10 a couple of years ago I kept my old phone, because there are a lot of things you can do with a phone even without a SIM card. I'm glad I did, because it's perfect (for now) for taking my blog photos. And Windows can talk to Samsung phones, so I can transfer the photos from the camera to my computer without taking the camera out of the rig.
It took a while to figure out how to cook without getting tangled up in the camera stand. But I've got the process going pretty smoothly now, and I can do a photo shoot and have it up on the site the next day. As long as the week doesn't go sideways!
That's all for now! More recipes next week!
I hope you've enjoyed the tour. Please exit through the gift shop!